Experience Cinema at Home with Philips TV 65 Inch 65PUT7374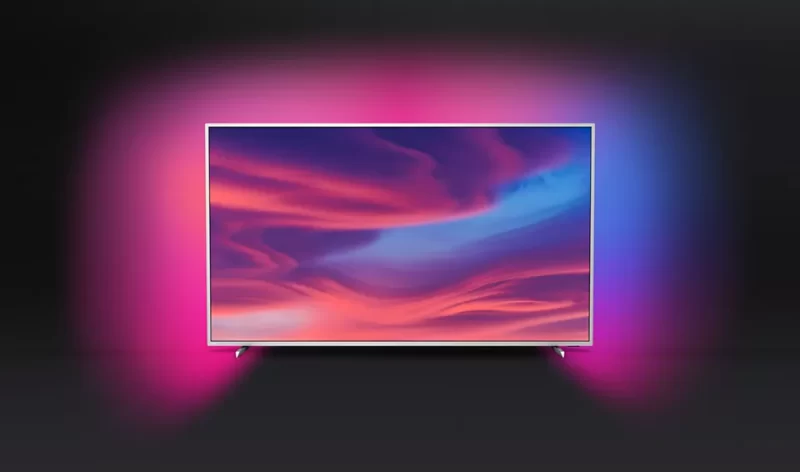 Model: Philips 65PUT7374/68
TV Type: 4K Android UHD LED
Elevate every moment; whether it's family movie night or the big game, with unmatched picture clarity and immersive Ambilight technology.
Experience Cinema at Home
Elevate your family movie nights and weekend games to an unprecedented level with the Philips TV 65 Inch 65PUT7374. Designed for those who crave superior picture quality paired with outstanding sound, this TV ensures your content always shines, no matter the source.
---
Ambilight: Beyond Conventional TV Watching
Don't just watch TV; immerse yourself in it. The Ambilight feature provides an experience like no other. The intelligent LEDs on the TV's edges cast colors onto your walls, making your screen feel bigger and your watching experience more intense. It's not just about viewing; it's about feeling.
---
Superior Technology for Brilliant Display
Trust in the Philips P5 Engine to always deliver perfection. Witness more depth in details, naturally vivid colors, and crisply defined contrasts. Whether you're watching a high-paced action movie or enjoying serene nature documentaries, the motion remains flawlessly smooth, capturing every nuance.
Product Features: Philips TV 65 Inch 65PUT7374/68 4K UHD LED Andoid TV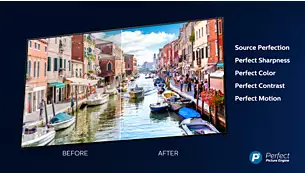 Philips P5 Engine: Perfect Picture Every Time
Imagine a painter who always paints masterpieces, no matter the canvas. The Philips P5 Engine does just that for your TV. Whether you're watching a classic film or a quick video clip, expect nothing but perfection. This engine ensures colors are vibrant, movements are fluid, and every detail is sharp. With the Philips P5 Engine, your Philips TV 65 Inch 65PUT7374 will always display content in its most beautiful form.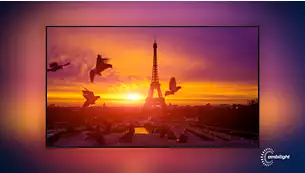 Ambilight: Feel the Emotion Beyond the Screen
Ever wondered what magic feels like? Ambilight is it. This technology takes what's happening on your Philips TV 65 Inch 65PUT7374 and extends it beyond the screen. The colors and lights spill onto your walls, creating an immersive atmosphere. It's like your TV is giving a light show, making movies, games, and music truly come alive around you.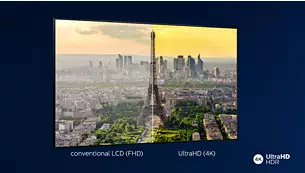 Bright 4K LED TV: Dive into a World of Color and Clarity
With the Philips TV 65 Inch 65PUT7374, you'll dive deep into a sea of pixels that's four times deeper than standard HD TVs. What does that mean? Pictures so clear you'll feel like you're looking out of a window rather than at a screen. This TV brings every detail to life in bright, vibrant colors and super-smooth motions. Whether you're gaming or binge-watching, the visual experience is simply stunning.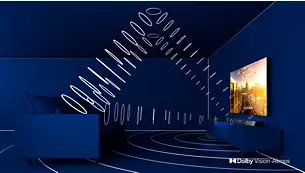 Dolby Vision and Dolby Atmos: The Cinematic Duo
Want a theater experience from your couch? Dolby Vision and Dolby Atmos are here for you. With these, your Philips TV 65 Inch 65PUT7374 brings out the deepest contrasts, brightest highlights, and enveloping sound. Feel every emotion as the director intended, from the whisper of leaves to the roar of action sequences.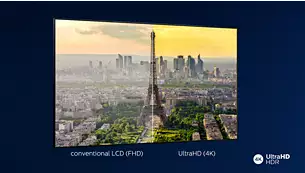 HDR10+ Supported: Director's Vision at Your Home
HDR10+ is like a translator, ensuring that what the director envisioned is what you see on your screen. It adjusts the picture frame by frame, bringing out the depth in shadows and making bright scenes shimmer. Your movies and shows get the VIP treatment they deserve with Philips TV 65 Inch 65PUT7374.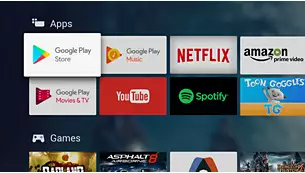 Google Play Store and Philips App Gallery: An Ocean of Entertainment
Why limit yourself? With Google Play Store and Philips App Gallery on your Philips TV 65 Inch 65PUT7374, you get access to an endless world of entertainment. Dive into movies, binge on TV shows, groove to music, or discover new apps and games. There's always something new waiting for you.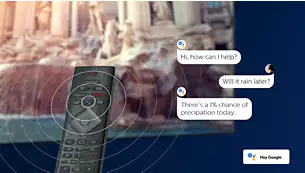 Google Assistant: Just Say the Word
Ever dreamed of a TV that listens? The Google Assistant feature in Philips TV 65 Inch 65PUT7374 makes it a reality. Just tell your TV what you want, be it "Play the latest episode of my favorite show" or "Dim the lights for movie night", and watch the magic happen. No remotes, no buttons, just your voice.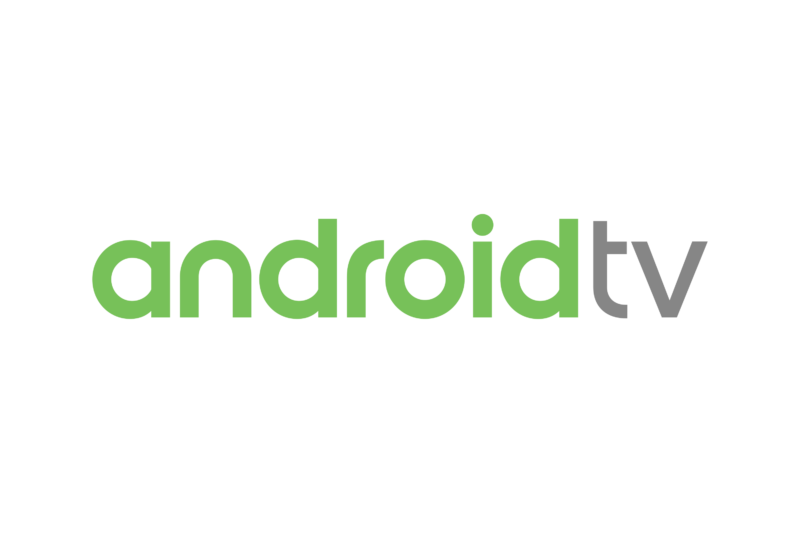 Android TV: Your Personalized Entertainment Hub
With Android TV, the Philips TV 65 Inch 65PUT7374 becomes your very own. Set it up to showcase your favorite apps, easily pick up from where you left off, or explore fresh content. It's smart, intuitive, and always ready to entertain.
Product Specification: Philips TV 65 Inch 65PUT7374/68 4K UHD LED Andoid TV
| | |
| --- | --- |
| Ambilight | Ambilight Features: Built in Ambilight+hue, Ambilight Music, Game Mode, Wall colour adaptive, Lounge mode |
| | Ambilight Version: 3-sided |
| Picture/Display | Aspect ratio: 16:9 |
| | Display: 4K Ultra HD LED |
| | Panel resolution: 3840x2160 |
| | Picture engine: P5 Perfect Picture Engine |
| | Picture enhancement: Micro Dimming Pro, Ultra Resolution |
| | Supported Display Resolution: HDR supported, HDR10/HLG up to 4K UHD 3840x2160 @60Hz, Video inputs on all HDMI up to 4K UHD 3840x2160@60Hz, HDR10/HLG (Hybrid Log Gamma), HDR10+/Dolby Vision |
| Tuner/Reception/Transmission | Digital TV: DVB-T/T2 |
| | Video Playback: NTSC, PAL, SECAM |
| | MPEG Support: MPEG2, MPEG4 |
| | TV Program guide: 8 day Electronic Program Guide |
| | Signal strength indication: Yes |
| | Teletext: 1000 page Hypertext |
| | HEVC support: Yes |
| Android TV | OS: Android TV™ 9 (Pie) |
| | Pre-installed apps: Google Play Movies*, Google Play Music*, Google Search, YouTube |
| | Memory size(Flash): 16GB* |
| | Memory size to install apps: 5GB |
| Smart TV | SmartTV apps: Netflix |
| | Smart TV Features: User Interaction, SimplyShare, Interactive TV, meWatch Red Button, Program, Pause TV, USB recording* |
| | Ease of Installation: Auto detect Philips devices, Network installation wizard, Settings assistant wizard |
| | Ease of Use: One-stop smart menu button, Onscreen user manual, Firmware upgradeable, Firmware auto upgrade wizard, Firmware upgradeable via USB, Online firmware upgrade, Screen Format Adjustments |
| Multimedia Applications | Video Playback Formats: Containers: AVI, MKV, H264/MPEG-4 AVC, MPEG-1, MPEG-2, MPEG-4, WMV9/VC1, VP9, HEVC (H.265) |
| | Music Playback Formats: AAC, MP3, WAV, WMA, WMA-PRO |
| | Subtitles Formats Support: .SRT, .SUB, .TXT, .SMI |
| | Picture Playback Formats: JPEG, BMP, GIF, PNG, 360 photo, HEIF |
| Processing | Processing Power: Quad Core |
| Sound | Output power (RMS): 20W |
| | Speaker configuration: 2x10W full range speaker |
| | Sound Enhancement: Clear Sound, Smart Sound, Auto Volume Leveler, Dolby Atmos |
| Connectivity | Number of HDMI connections: 4 |
| | HDMI features: 4K, Audio Return Channel |
| | Number of USBs: 2 |
| | Wireless connection: Bluetooth 4.2, Wi-Fi 802.11n, Dual band |
| | Other connections: Digital audio out, Ethernet-LAN, Audio L/R in, Headphone out |
| Power | Mains power: AC 220 - 240 V 50/60Hz |
| | Ambient temperature: 5 °C to 35 °C |
| Accessories | Included: Remote Control, Quick start guide, Legal and safety brochure, Power cord, Mini-jack cables, Table top stand, Batteries |
| Dimensions | Set (WxHxD): 1462x851x88.9 mm |
| | Weight: 23.9 kg |
| | With Stand (WxHxD): 1462x868.7x274 mm |
| | Weight (with stand): 24.3 kg |
| | Packaging (WxHxD): 1600.0x995.0x174.0 mm |
| | Weight incl. Packaging: 31.9 kg |
| What's in the box? | Items: Remote Control, Quick start guide, Legal and safety brochure, Power cord, Mini-jack cables, Table top stand, Batteries |
| Warranty | 1 + 1 Year (Online Register) |
Product FAQ: Philips TV 65 Inch 65PUT7374/68 4K UHD LED Andoid TV
Brand: Philips