Introducing the Samsung Vacuum Cleaner VC18M31A0HP: A Game-Changer in Home Cleaning
Model: Samsung VC18M31A0HP/ME
Vacuum Type: Bagless Vacuum
Revolutionize your cleaning routine with the Samsung Vacuum Cleaner VC18M31A0HP Canister Bagless with Anti-Tangle Turbine, 370W. Grab yours today!
More Consistent*
Anti-Tangle Turbine
The Anti-Tangle Turbine provides more consistent suction* that won't get clogged-up by hairs, so it maintains the optimum suction for a long time.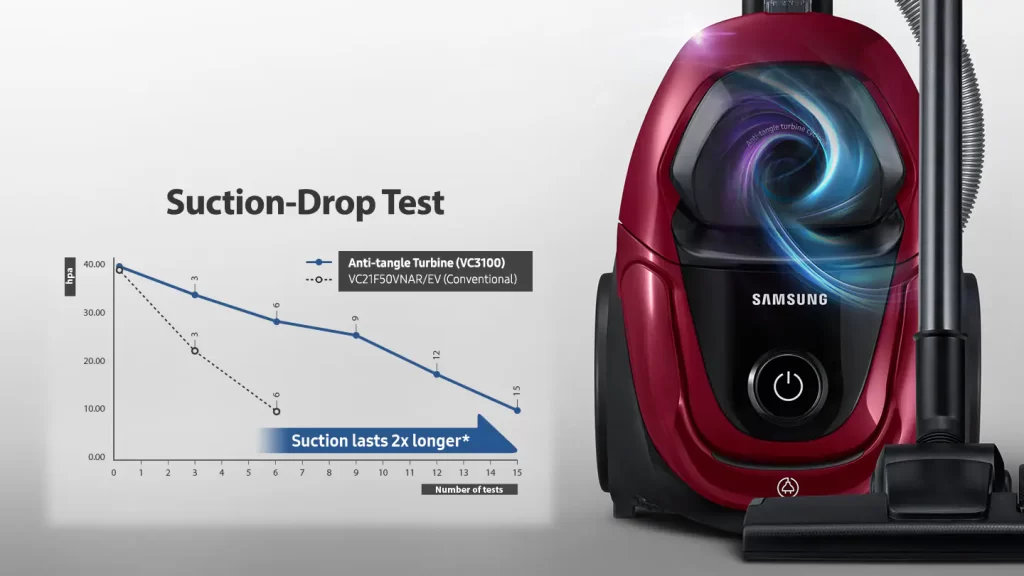 *Based on internal testing. Tested at the turbine fan using a mix of hair and pet hair on floor. Compared with conventional Samsung VC21F50VNAR/EV.
Cleaning your home is about to get a lot more efficient, thanks to the Samsung Vacuum Cleaner VC18M31A0HP. This powerful, yet convenient vacuum cleaner is designed to provide a superior cleaning experience, making it a must-have for anyone seeking an easy and effective way to maintain a clean and healthy living environment
No More Hassle
Simple Maintenance
Enjoy simple maintenance with the Anti-tangle Turbine, which prevents dust, dirt and hair from getting tangled around it. The Easy Dustbin can also be easily detached and hygienically emptied at the push of a button.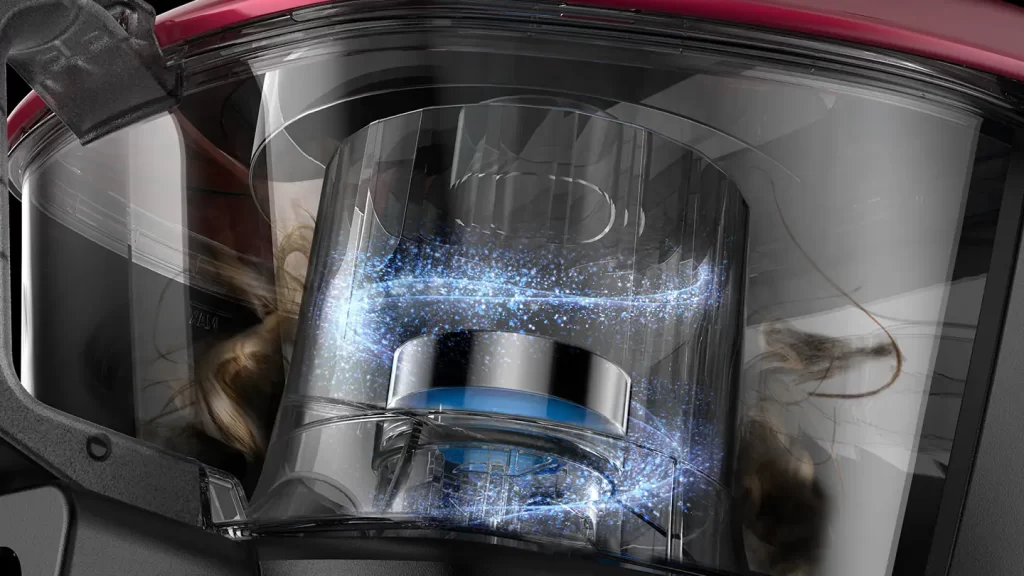 In a world where busy schedules rule and time-saving solutions are highly sought after, the Samsung Vacuum Cleaner VC18M31A0HP is a breath of fresh air. It stands out from other vacuum cleaners due to its distinctive CycloneForce™ with Anti-Tangle Turbine technology. This feature ensures that the turbine grille doesn't get clogged up by dirt or hair, thus maintaining a consistent and powerful suction throughout your cleaning session.
Easy to Check Inside
Large Capacity Dustbin
Its large capacity dustbin can hold 2 liters of dust and dirt, so you can clean for much longer without having to empty it as frequently. And because it has a large transparent "sunroof" style cover you can easily see how full it is with just a quick glance and without having to bend over.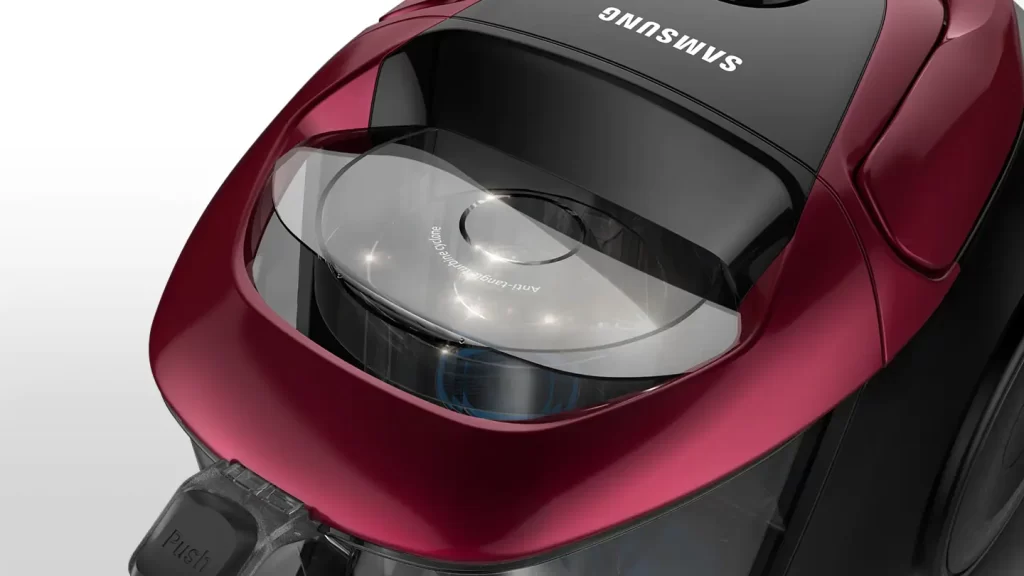 Moreover, the VC18M31A0HP model boasts a large capacity dustbin that can hold up to 2 liters of dust and dirt, which means you can clean for longer periods without the hassle of frequent emptying. This feature truly sets it apart as a bagless vacuum cleaner, promoting ease of maintenance and uninterrupted cleaning.
Step. 1
Simply pull the dustbin from the body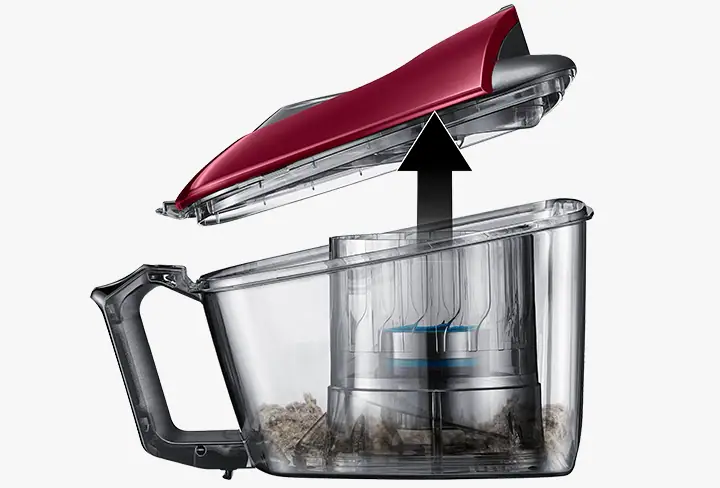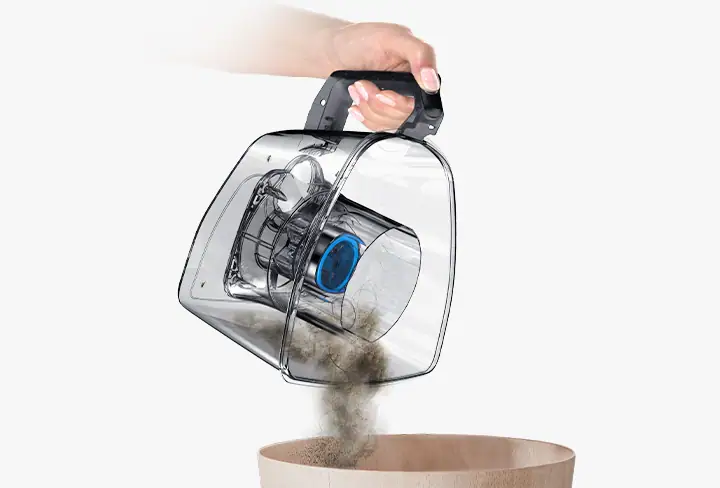 Step. 3
Tip the contents into the trash can and then effortlessly slide it back – all without having to touch the lid or put your hands inside
A Deeper Look at the Samsung VC18M31A0HP's Features
Apart from its cutting-edge technology and convenience features, the Samsung VC18M31A0HP also brings a blend of aesthetic appeal and performance to your cleaning routine. Its beautiful merlot purple cover is a refreshing departure from the traditional vacuum cleaner designs.
Easy to Reach
Remote Control*
The Remote Control Handle features built-in control buttons that are within easy reach, so you can quickly turn the machine on / off and select the optimum suction power without interrupting your cleaning.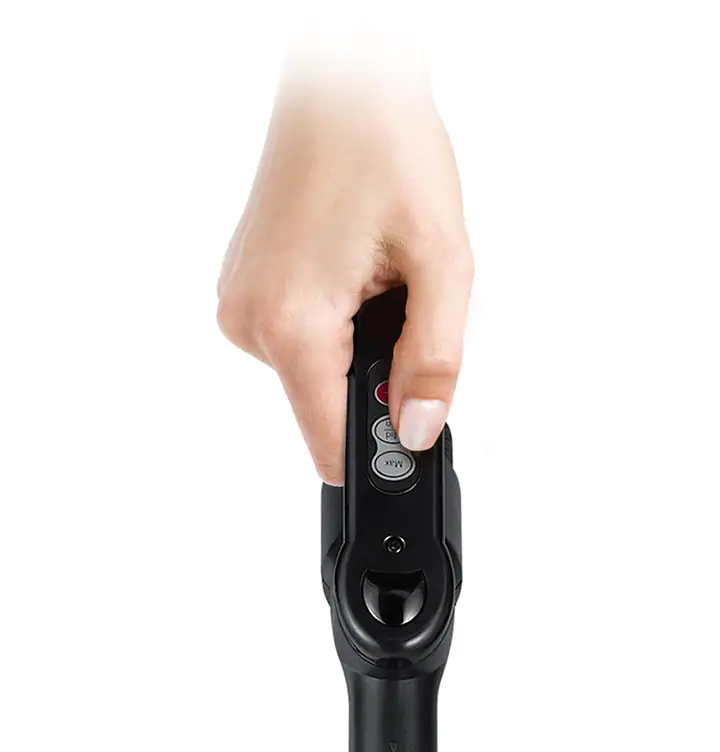 *Available on VCXXM31AXXX, VCXXM31BXXX, VCXXM31CXXX series.
Samsung VC18M31A0HP also offers remote handle control. The built-in control buttons on the handle are within easy reach, allowing you to control the device effortlessly while you clean.
This Samsung Bagless Vacuum Cleaner doesn't skimp on performance either. With a maximum consumption power of 1,800W, a suction power of 370W, and a noise level of 87 dBA, you're guaranteed a powerful, yet quiet, cleaning performance every time.
When it comes to dimensions, this device is compact and easy to maneuver, making cleaning around the house a breeze. The main body of the vacuum cleaner has a width of 272mm, a height of 234mm, and a depth of 407mm, and it weighs just 4.8 kg. These measurements make it an ideal choice for those seeking a lightweight and portable cleaning device.
Why Choose the Samsung Vacuum Cleaner VC18M31A0HP?
Here's a quick rundown of why the Samsung Vacuum Cleaner VC18M31A0HP should be your next choice for a reliable and efficient vacuum cleaner:
CycloneForce™ with Anti-Tangle Turbine: This technology ensures uninterrupted and powerful suction, regardless of how much dust and hair you're dealing with.
Large Capacity Dustbin: A 2-liter dustbin means fewer trips to the garbage bin, making your cleaning routine seamless and efficient.
Remote Handle Control: Easy-access control buttons make operation a breeze.
Compact and Lightweight: With its convenient dimensions and lightweight design, moving this vacuum cleaner around your home is as easy as pie.
Experience the innovative cleaning power of the Samsung Vacuum Cleaner VC18M31A0HP and see the difference for yourself. Visit Tanjak Electrical today and transform your home cleaning routine into a satisfying and enjoyable task.