Experience Safety & Efficiency with Toshiba Kettle KT-17DR1NMY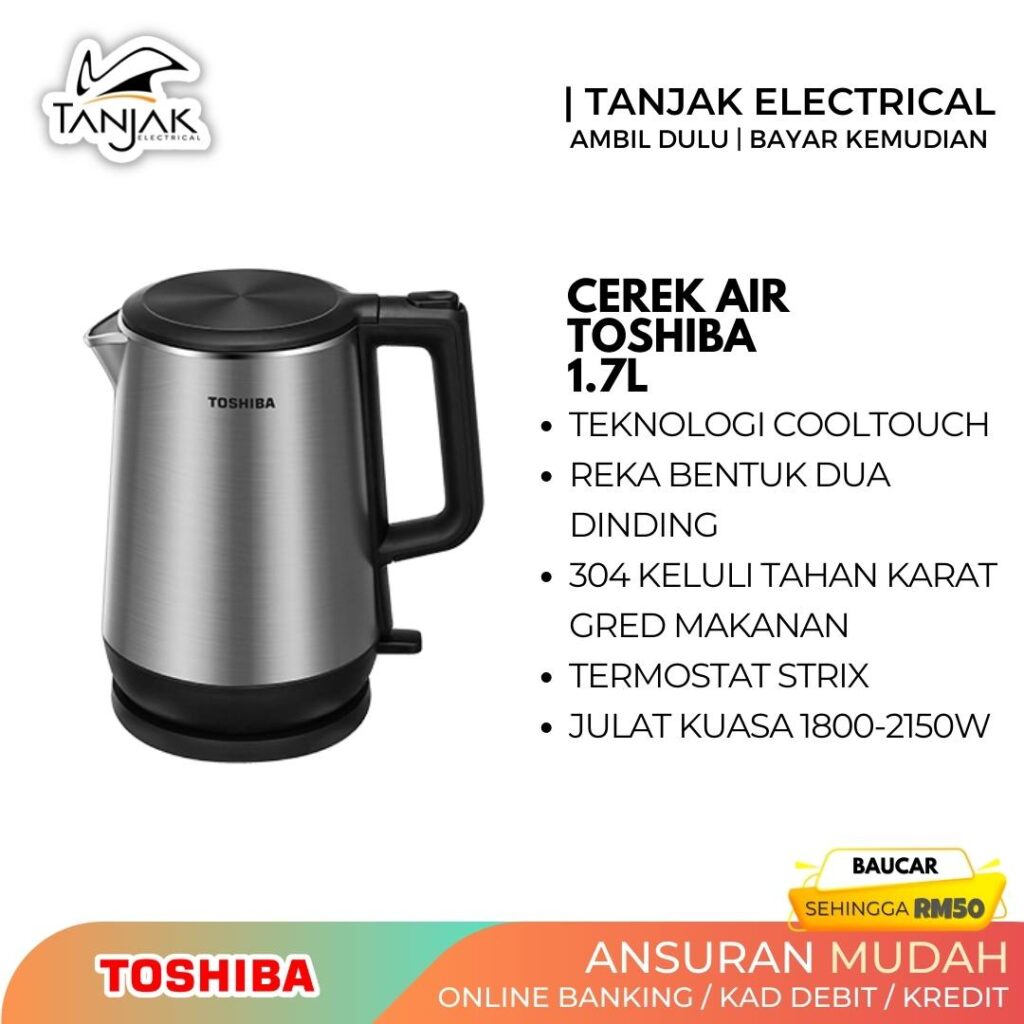 Model: Toshiba KT-17DR1NMY
Kettle Type: Electric Kettle
Discover the Toshiba Kettle KT-17DR1NMY, offering an unparalleled blend of safety, durability, and efficiency. Enjoy the revolutionary Cooltouch technology, durable #304 stainless steel, and faster boiling times. Order yours today and elevate your brewing experience.
Experience Unparalleled Safety
Step into a new era of home appliances with the Toshiba Kettle KT-17DR1NMY. The cutting-edge Cooltouch feature ensures a safe exterior, thanks to a revolutionary double-wall design. Be at ease as the surface remains pleasantly warm to touch, even when the water inside is boiling.
Quality Craftsmanship, Supreme Durability
Delve into the reliability and durability of #304 food-grade stainless steel, resistant to rust and designed for longevity. With the Toshiba Kettle KT-17DR1NMY, you'll relish the taste of your favorite beverages without unpleasant metallic undertones.
Efficient and Easy-to-use
Say goodbye to long waits with the robust power range of 1800-2150W, which ensures faster boiling. The Strix thermostat offers precise temperature control, while the extra-wide lid ensures easy water filling and cleaning. Get ready to enjoy your much-needed brews quicker than ever.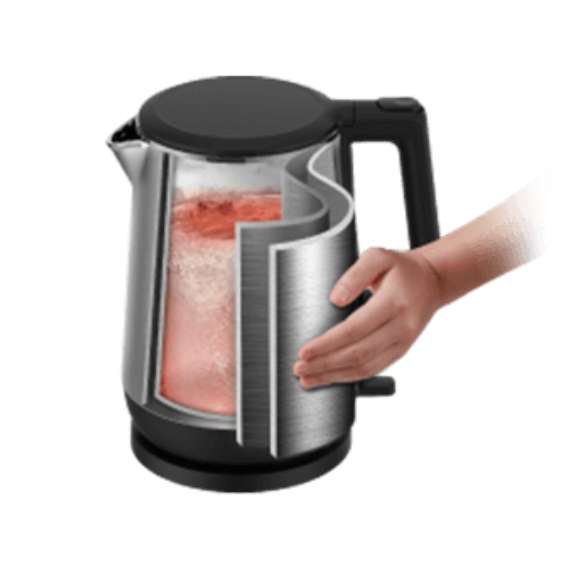 CoolTouch
It is a 2-layer stainless steel design that serves as the unique insulator that keeps the water inside hot, while the kettle surface stays comfortably warm and safe. Due to the DoubleWall technology, it reduces the surface temperature by an impressive 50%.
Strix Thermostat
2x durability by UK design. Strix Thermostat was tested up to 10,000 times which is also the world's leading British Strix thermostat. It provides precise temperature control to ensure the water is fully boiling.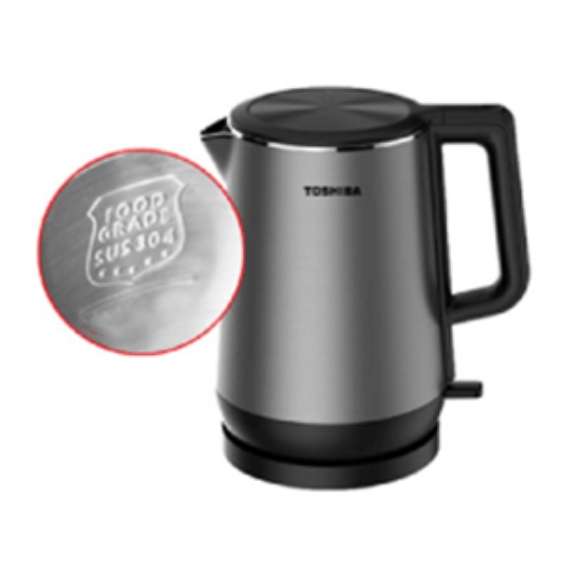 #304 Food Grade Stainless Steel
Comes with food grade materials, the finest durable #304 stainless steel for interior and housing. It is created with a high level of nickel so rust gathers hardly. There is no unpleasant taste and smell.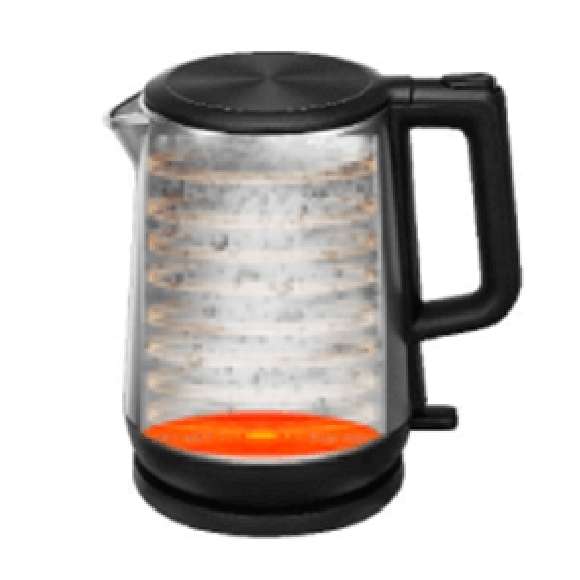 Seamless Stainless-Steel Interior
The seamless stainless-steel interior prevents water leakage and the heating element under the bottom of the kettle is completely enclosed for easier cleaning.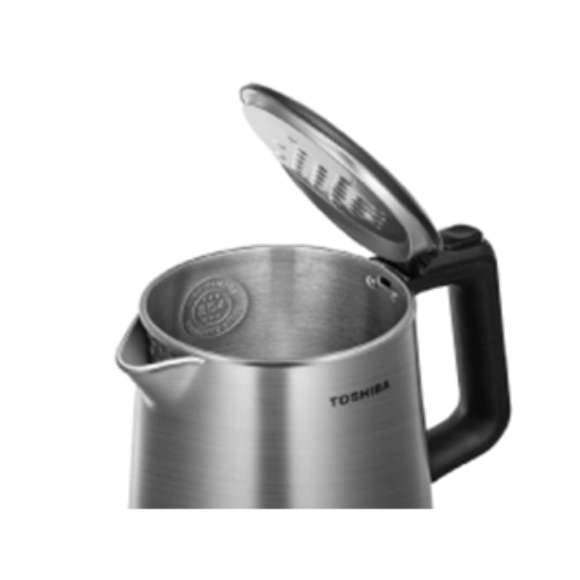 1800-2150W
This up to 2150W kettle boils water faster.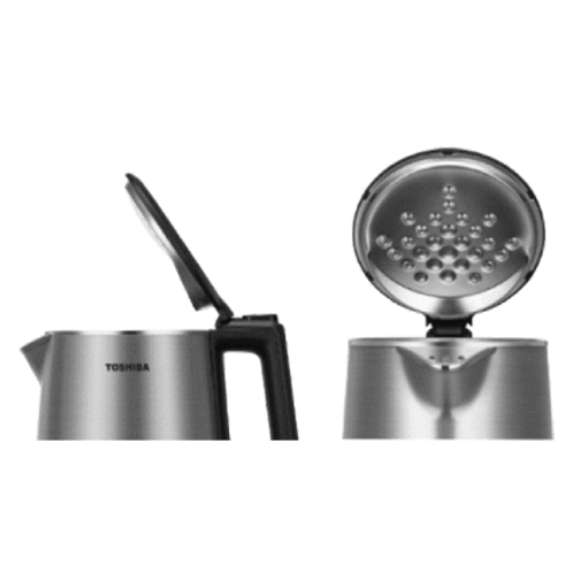 Extra-wide Lid Open
75° and extra-wide lid open for easily filling water and cleaning. The special design anti-splash lid also ensures worry-free water flow from the lid to your hands.
Anti-Splash
A special design feature to prevent water splashing.
Double Wall
A feature that ensures the outer surface of the kettle remains safe to touch.
| Specification | Value |
| --- | --- |
| Capacity (L) | 1.7 |
| Rated Power Supply (V) | 220-240 |
| Rated Frequency (Hz) | 50-60 |
| Weight (Kg) | 1.22 |
| Dimensions (W x D x H) (mm) | 214 x 160 x 245 |
| Warranty | 1 year |
FAQ: Toshiba Kettle KT-17DR1NMY - 1.7L Cooltouch Kettle
What makes the Toshiba Kettle KT-17DR1NMY a safe choice for my home?
The Toshiba Kettle KT-17DR1NMY has a unique Cooltouch feature and a double-wall design that keeps the exterior warm to touch, not hot, even when boiling water inside. This significantly reduces the risk of accidental burns.
What is the Strix Thermostat mentioned in the Toshiba Kettle KT-17DR1NMY features?
The Strix Thermostat is a British-designed feature that provides precise temperature control. It has been tested up to 10,000 times to ensure durability and optimal performance. It ensures your water is fully boiling when required.
How does the #304 Food Grade Stainless Steel benefit the Toshiba Kettle KT-17DR1NMY?
The #304 Food Grade Stainless Steel used in the Toshiba Kettle KT-17DR1NMY is of high quality, durable, and resistant to rust. It provides a safe, tasteless, and odorless medium for water heating, ensuring the purest taste for your beverages.