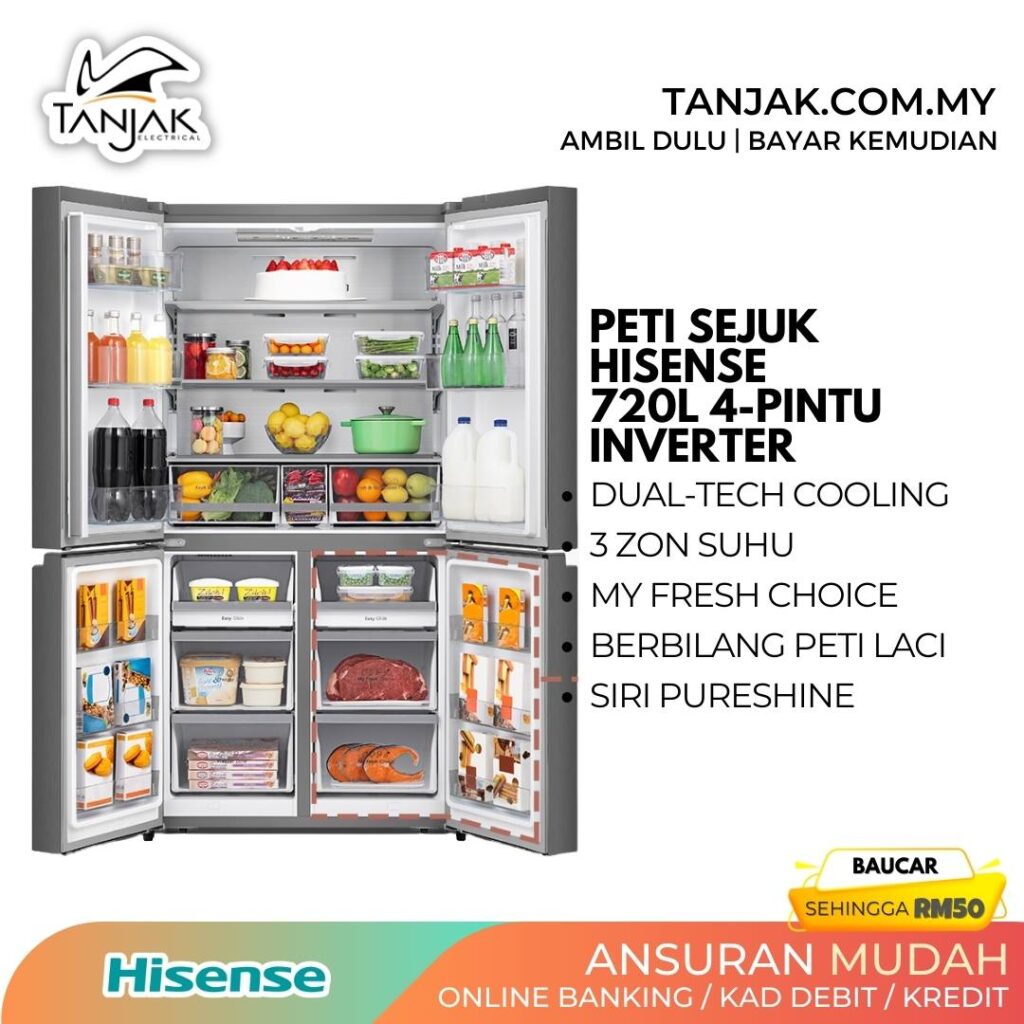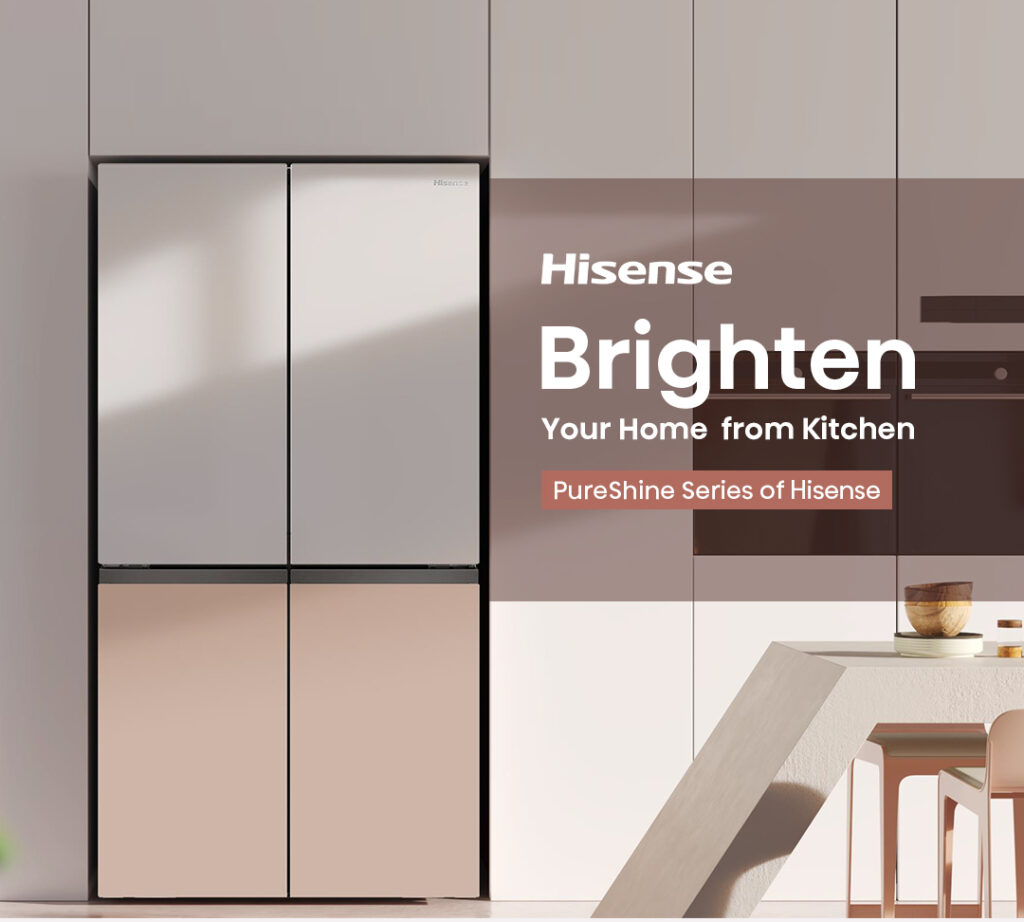 The Hisense 4 Door Fridge RQ768N4AW-KU - Spacious and Energy-Efficient Fridge That Keeps Your Food Fresh and Organized
When it comes to keeping your food fresh, the Hisense 4 Door Fridge RQ768N4AW-KU PureShine Series is the perfect appliance for any kitchen. With its spacious interior and advanced features, this fridge is designed to meet all your food storage needs.
In this product summary, we'll explore some of the key features of the Hisense 4 Door Fridge and show you why it's the ideal choice for your kitchen.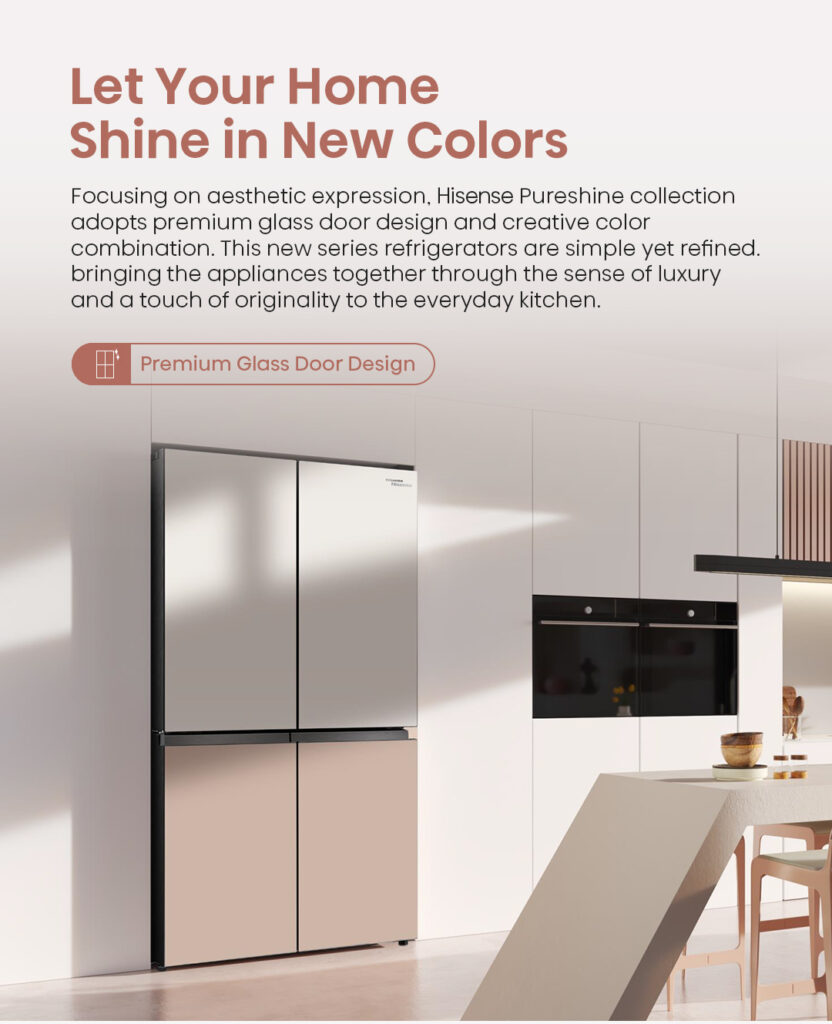 Premium Glass Door Design - Let Your Home Shine in New Colors
The Hisense PureShine collection is all about elevating the look and feel of your kitchen. With its premium glass door design and unique color combinations, this series of refrigerators is sure to catch the eye of anyone who enters your home.
These fridges are not only aesthetically pleasing, but also simple and refined, seamlessly blending in with any kitchen decor. And the touch of luxury and originality they add to your everyday routine is simply unbeatable.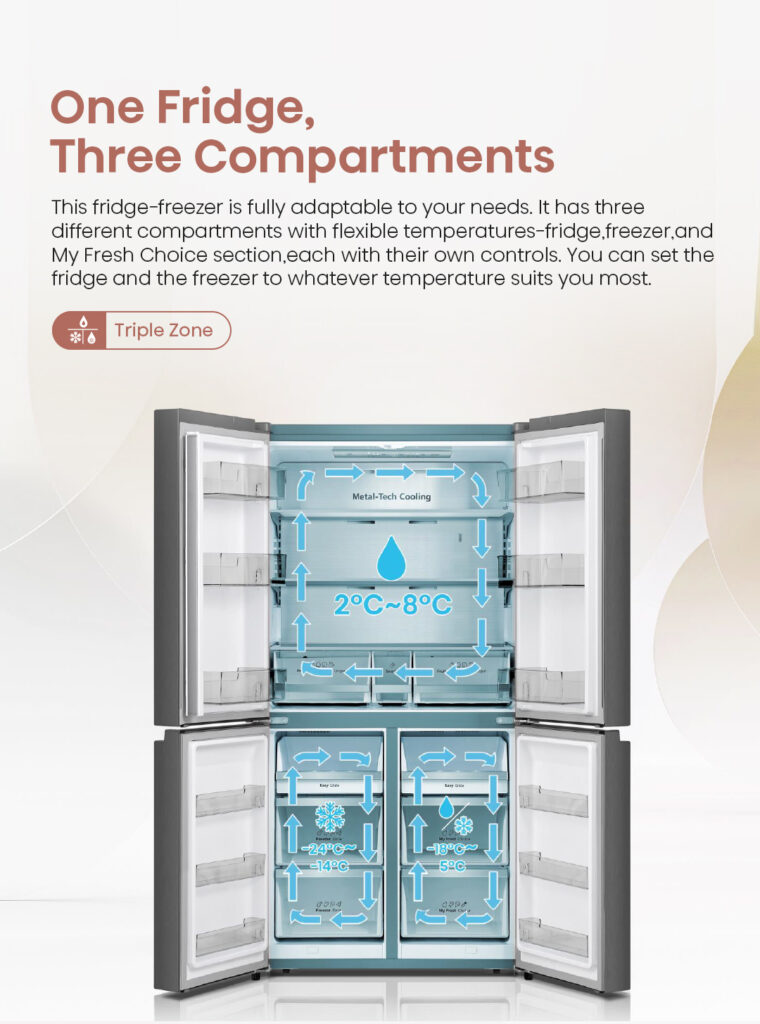 Triple Temperature Zone - One Fridge, Three Compartments
The Hisense 4 Door Fridge RQ768N4AW-KU is the ultimate fridge-freezer that adapts to your lifestyle. With three separate compartments that offer flexible temperature control, this fridge has got your needs covered.
Whether you need to keep your drinks chilled or your food frozen, the fridge, freezer, and My Fresh Choice section, each with their own controls, allow you to set the temperature that suits you best. So, no more arguing over the perfect temperature for your fridge, because with the Hisense 4 Door Fridge RQ768N4AW-KU, everyone can have their own customized section.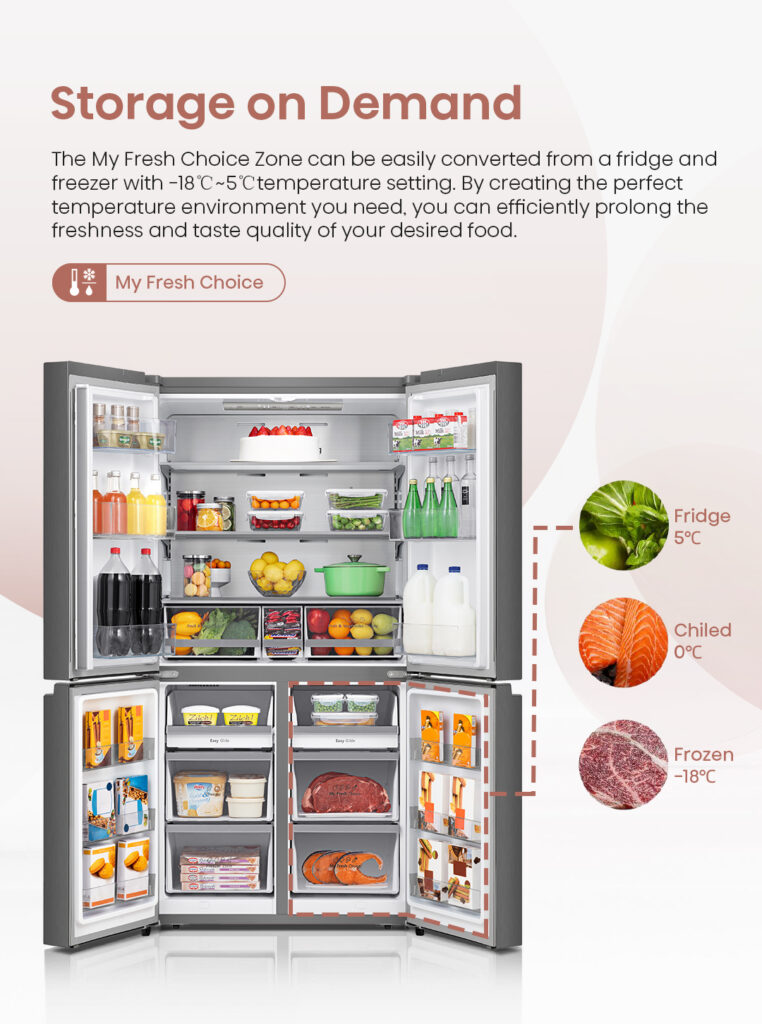 My Fresh Choice - Storage on Demand
Introducing the "My Fresh Choice" feature in the Hisense 4 Door Fridge RQ768N4AW-KU, designed to cater to your food storage needs in. With this feature, you can conveniently switch between fridge and freezer with temperature settings ranging from -18°C to 5°C.
By creating the ideal temperature conditions for your food, you can effortlessly extend the freshness and taste quality of your desired dishes. You can use the 5°C fridge setting for delicate food, 0°C chilled for drinks, and -18°C frozen for ice cream or frozen goods.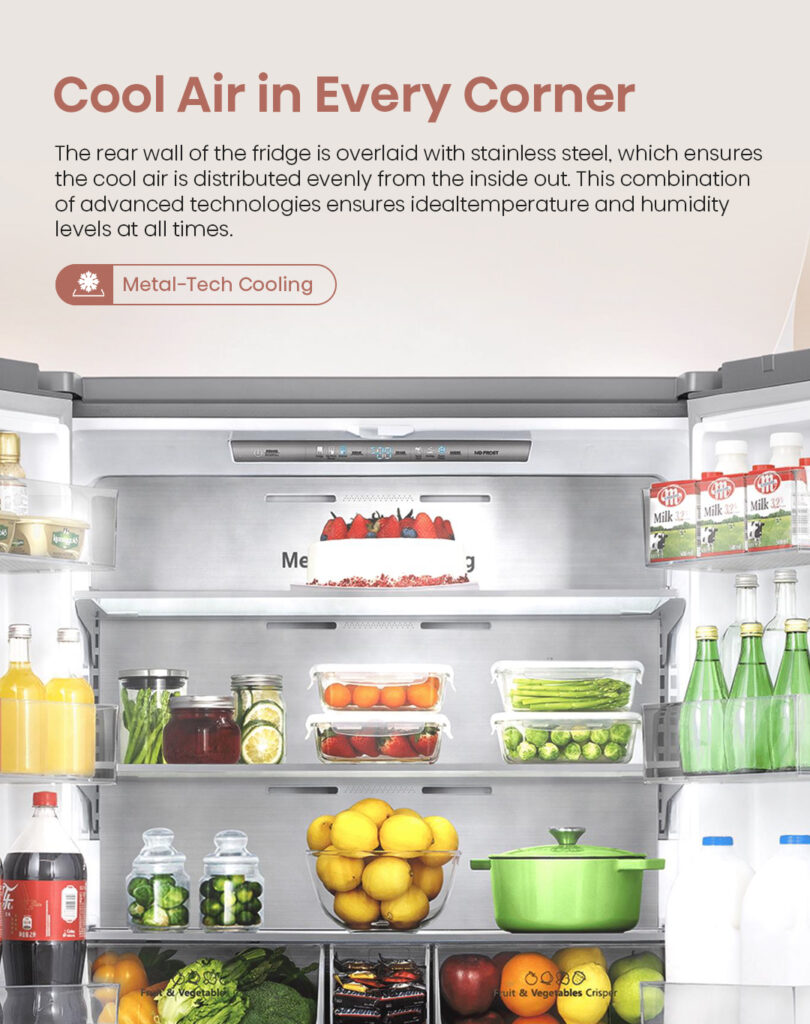 Metal-Tech Cooling - Cool Air in Every Corner
The Hisense 4 Door Fridge RQ768N4AW-KU features a rear wall overlaid with stainless steel that distributes cool air evenly from the inside out. With this advanced technology, you can expect the ideal temperature and humidity levels to be maintained at all times.
So whether you're storing your favorite fruits or frozen treats, you can trust that every corner of the fridge will be just as cool as the next.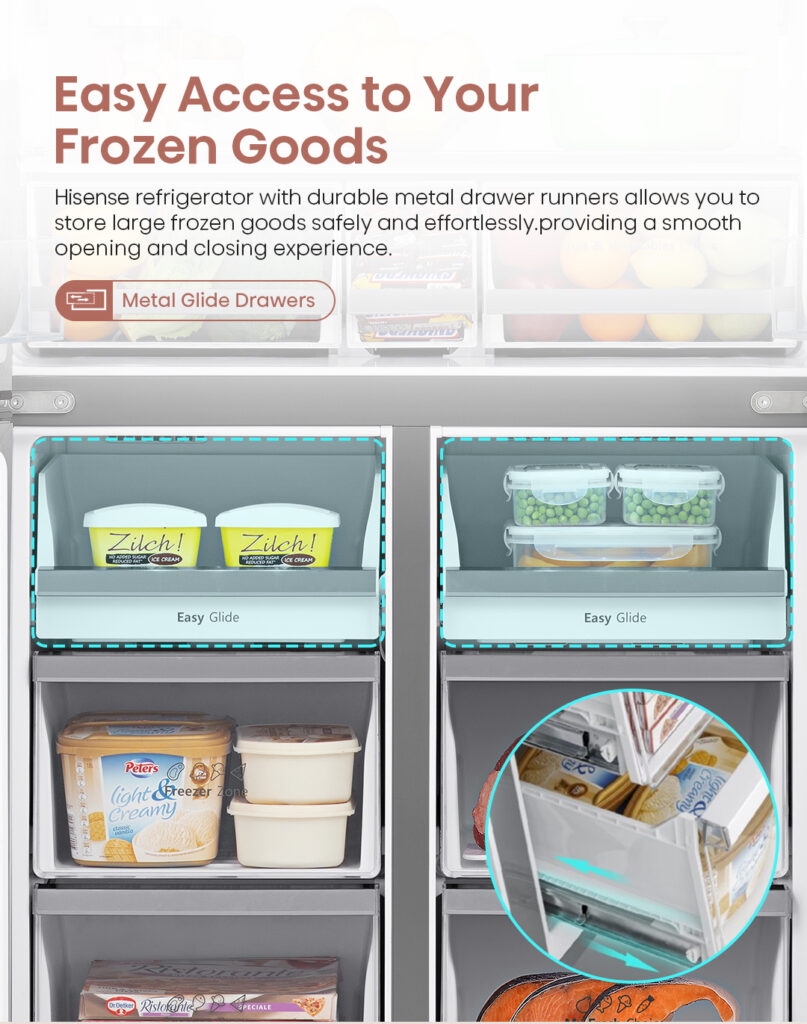 Metal Glide Drawers - Easy Access to Your Frozen Goods
Say goodbye to the hassle of storing frozen goods with the Hisense 4 Door Fridge RQ768N4AW-KU's metal glide drawers. These durable drawers are equipped with metal runners that ensure smooth opening and closing, even with large and heavy items inside.
Now, you can access your frozen goods effortlessly and without fear of damaging them.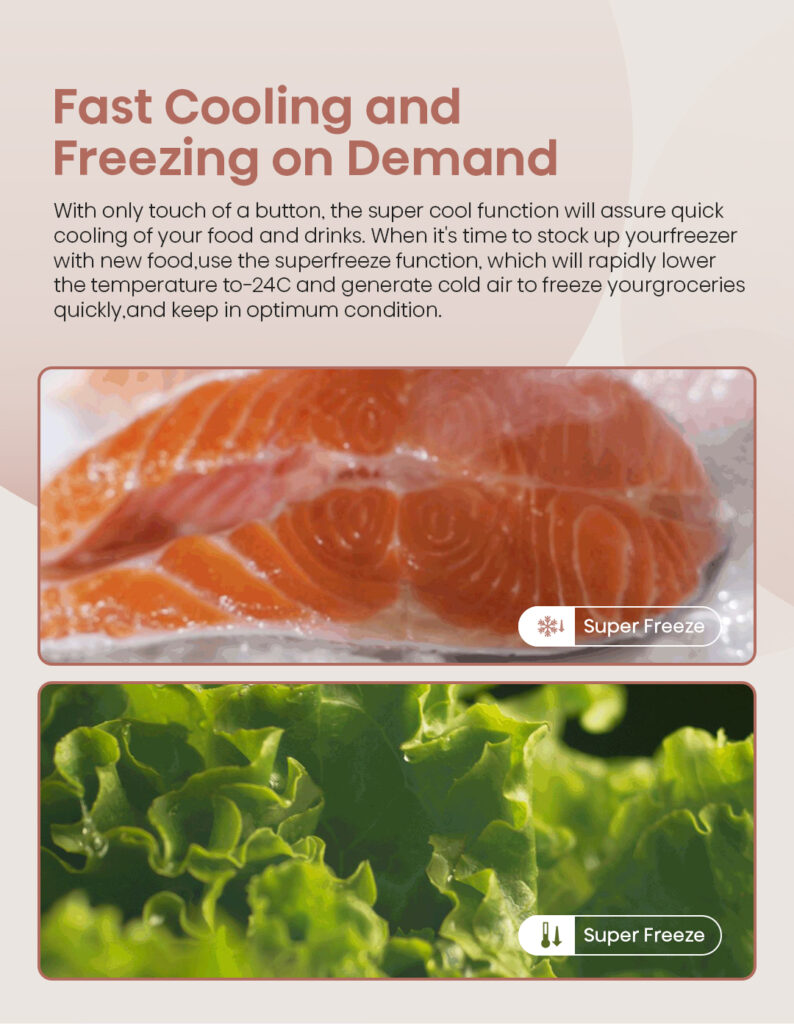 Super Freeze - Fast Cooling and Freezing on Demand
Are you feeling hot and thirsty, but your drinks are not cool enough? Don't worry, the Hisense 4 Door Fridge RQ768N4AW-KU has got you covered with its Super Freeze feature. By simply pressing a button, you can chill your food and drinks in no time! And if you need to fill up your freezer with new groceries, the Superfreeze function will quickly lower the temperature to -24°C, generating cold air to freeze your food quickly while maintaining its freshness.
No more waiting for hours to enjoy your favorite frozen treats!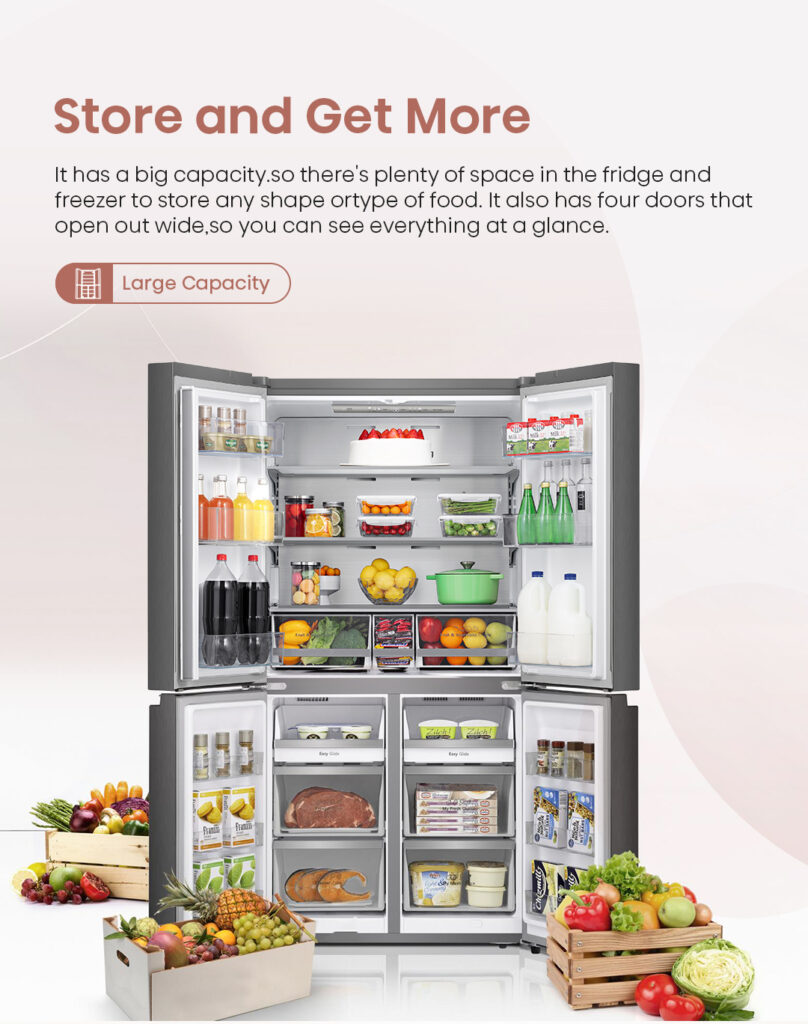 Large Capacity - Store and Get More
Big Storage, Big Possibilities - The Hisense 4 Door Fridge RQ768N4AW-KU boasts an enormous capacity that provides ample space for all kinds of food items, regardless of their size or shape. With four wide doors, you can easily take a glance at everything in your fridge and freezer without any hassle.
Store and get more out of your fridge with this spacious appliance.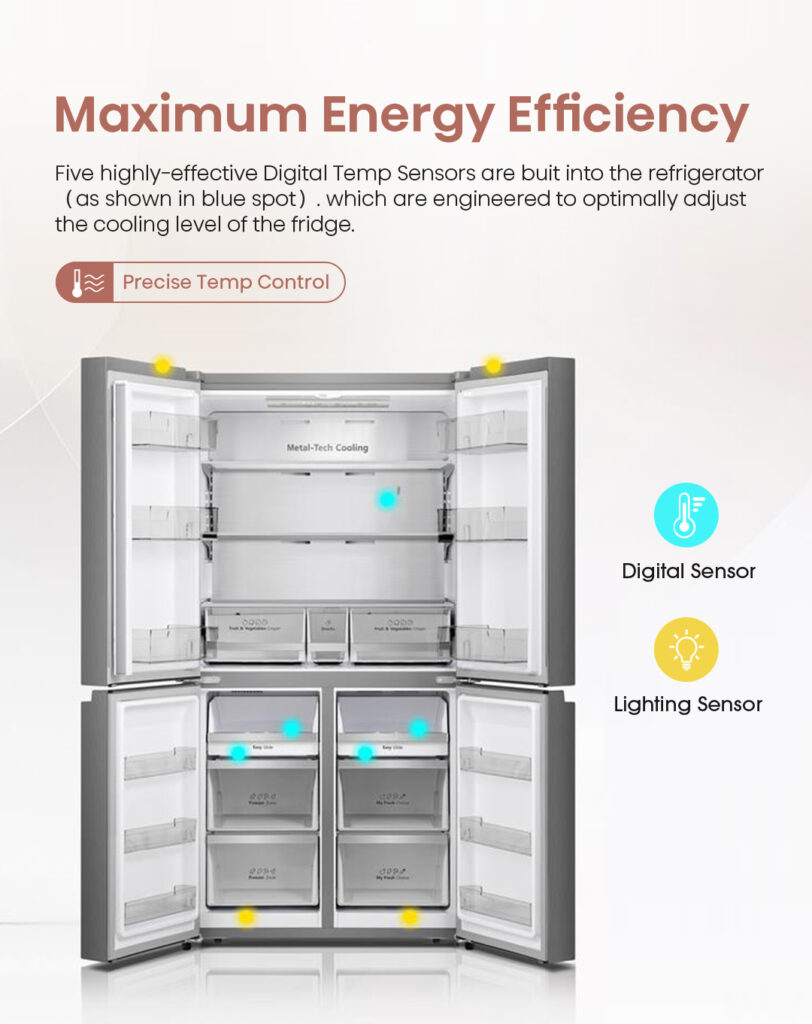 Precise Temp Control - Maximum Energy Efficiency
When it comes to keeping your food and drinks at the perfect temperature, the Hisense 4 Door Fridge RQ768N4AW-KU has got you covered. With not one, not two, but five digital temperature sensors (you can spot them by their cool blue color!), this fridge can precisely control the cooling level and keep your energy bills down.
Say goodbye to food waste and hello to maximum energy efficiency!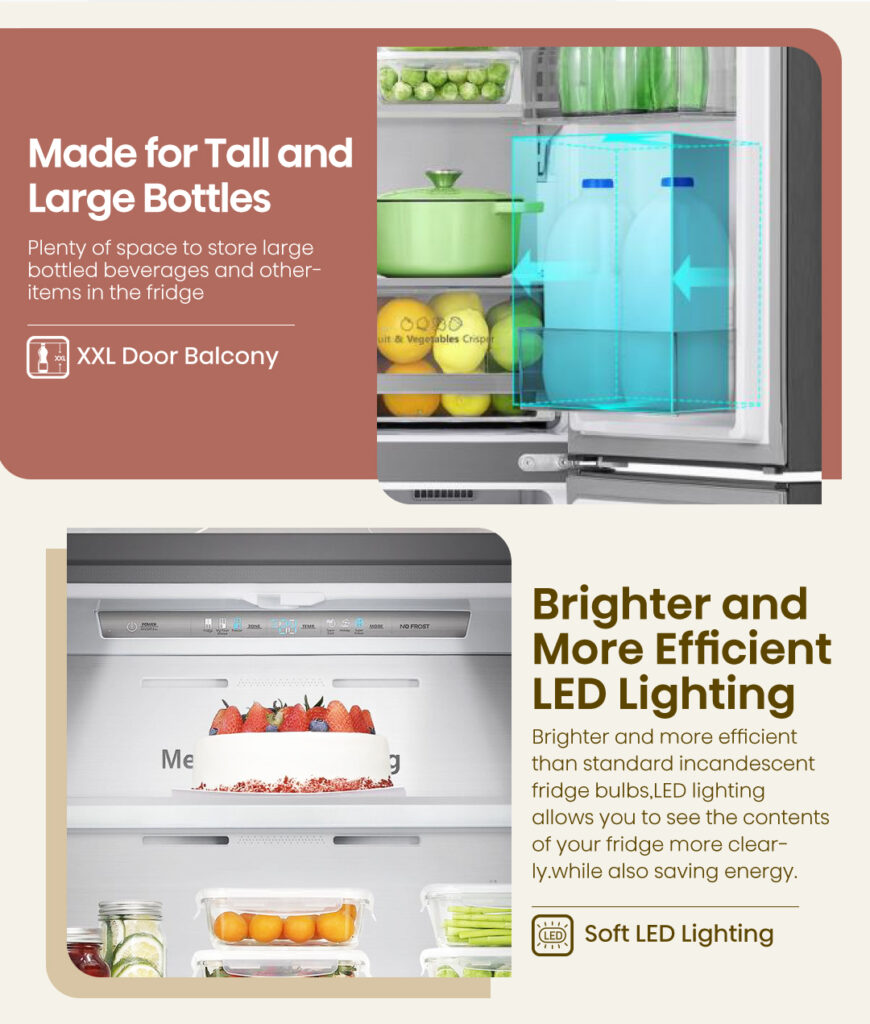 XXL Door Balcony - Made for Tall and Large Bottles
If you're a fan of big bottled beverages, you'll love the XXL Door Balcony feature of the Hisense 4 Door Fridge RQ768N4AW-KU. This clever design offers plenty of space to store large bottled drinks, as well as other items that need to be kept cool.
You'll never have to worry about finding room for your favorite thirst-quenchers again!
Soft LED Lighting - Brighter and More Efficient LED Lighting
If you're tired of struggling to find your favorite snack in a dimly lit fridge, then the Hisense 4 Door Fridge RQ768N4AW-KU has you covered with its Soft LED lighting system. This fridge is equipped with brighter and more efficient LED lights that make it easy to see everything inside, even in the dark.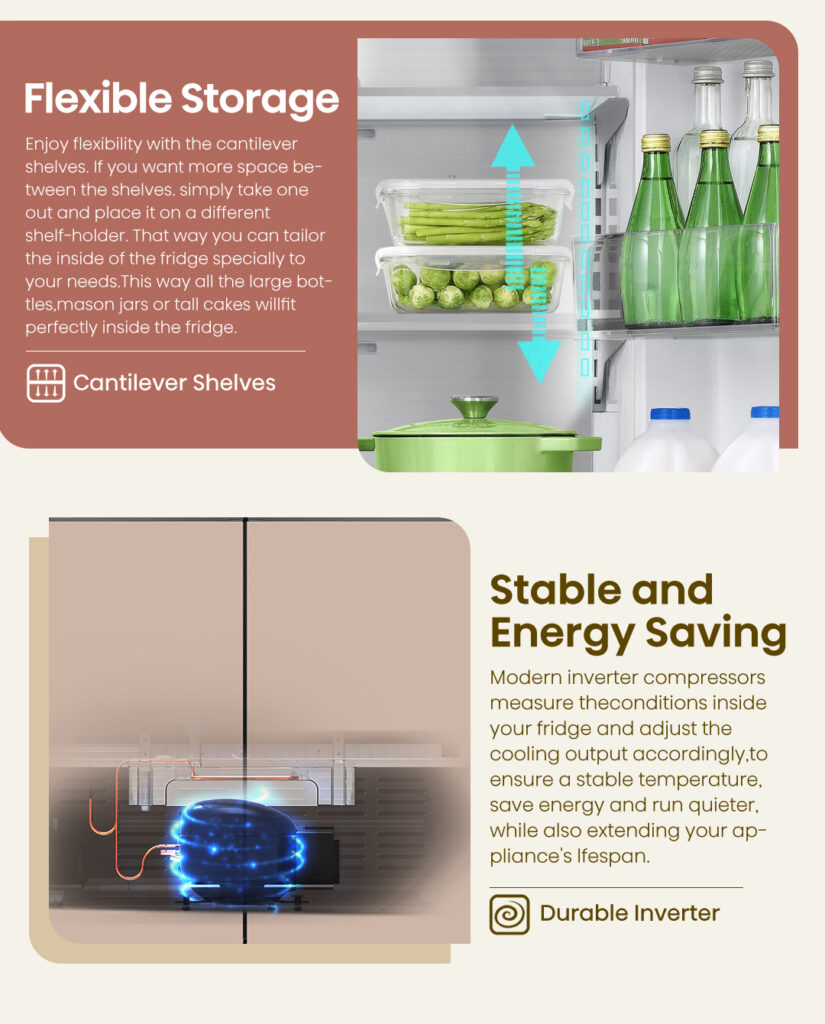 Cantilever Shelves - Flexible Storage
Say goodbye to the frustration of trying to fit in larger items into your fridge! With the Hisense 4 Door Fridge RQ768N4AW-KU's cantilever shelves, you can enjoy ultimate flexibility in your storage. No more having to squeeze your tall bottles or cakes into limited space! You can easily adjust the space between the shelves by simply taking one out and placing it on a different holder.
This way, you can customize your fridge's interior to your specific needs, making sure all your favorite items fit in just perfectly. Plus, with the cantilever shelves, you can finally store your mason jars with ease!
Durable Inverter - Stable and Energy Saving
Durable Inverter of the Hisense 4 Door Fridge RQ768N4AW-KU! It's not just a fancy name - this feature is designed to give you a stable and energy-efficient fridge experience. Thanks to modern technology, the inverter compressors can sense the temperature inside the fridge and adjust the cooling output to ensure a stable temperature.
This means you don't have to worry about your food spoiling due to inconsistent cooling. Plus, it saves energy and runs much quieter than traditional compressors. As if that wasn't enough, it also helps to extend the lifespan of your fridge - talk about a win-win situation!
General Features
Panel: White & Khaki Glass
Design: Multi Drawer
Dual-Tech Cooling
Handle: Recessed
Environment Friendly Refrigerant: R600a
Inverter Technology: Yes
Electronic Control: Yes
LED Touch Control: Yes
Child Lock: –
Holiday Function: Yes
Door Alarm: Yes
Integrated Cabinet: Yes
Reversible Door: –
Adjustable Front Legs: Yes
Refrigerator Feature
Shelves: Glass / 2
Door Basket: 3+3
Interior LED Lighting: Yes
Vegetable Crisper: 2
Humidity Controlled Crisper: –
Vegetable Crisper Cover: Yes
Egg Tray: Yes
Freezer Feature
Glass Shelves: –
Door Basket: 6
Interior LED Lighting: 2
Drawer: 4+2 Tray
Ice Maker: Yes
Specification
Brand: Hisense
Model: RQ768N4AW-KU
Total Capacity (Liters): Gross: 720, Net: 583
Storage Capacity: Freezer Net: 96+95, Refrigerator Net: 392
Net Dimension (mm): Width: 912, Depth (with handle): 725, Height: 1785
Packaging Dimension (mm): Width: 968, Depth: 778, Height: 1901
Weight (kg): Net: 126
Power Supply: Voltage (V): 220 – 240, Frequency (Hz): 50
Cooling System: Frost Free / Fan Cooling: Yes
Warranty
3 Years General Warranty
12 Years Compressor Warranty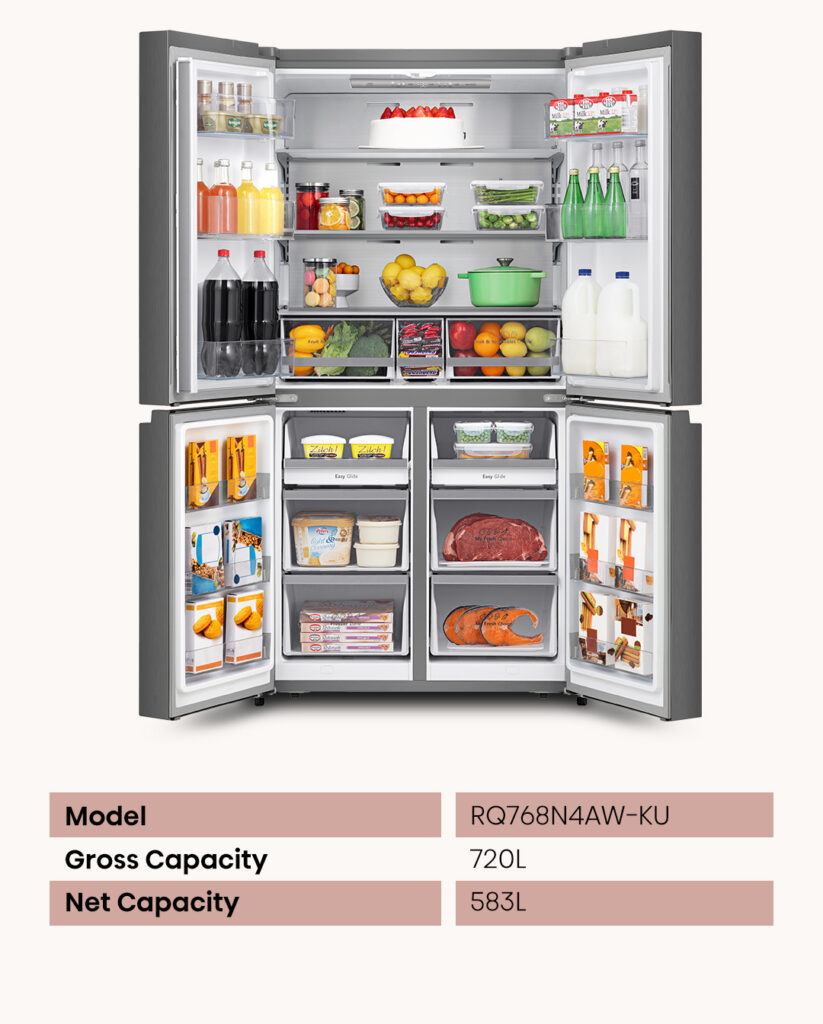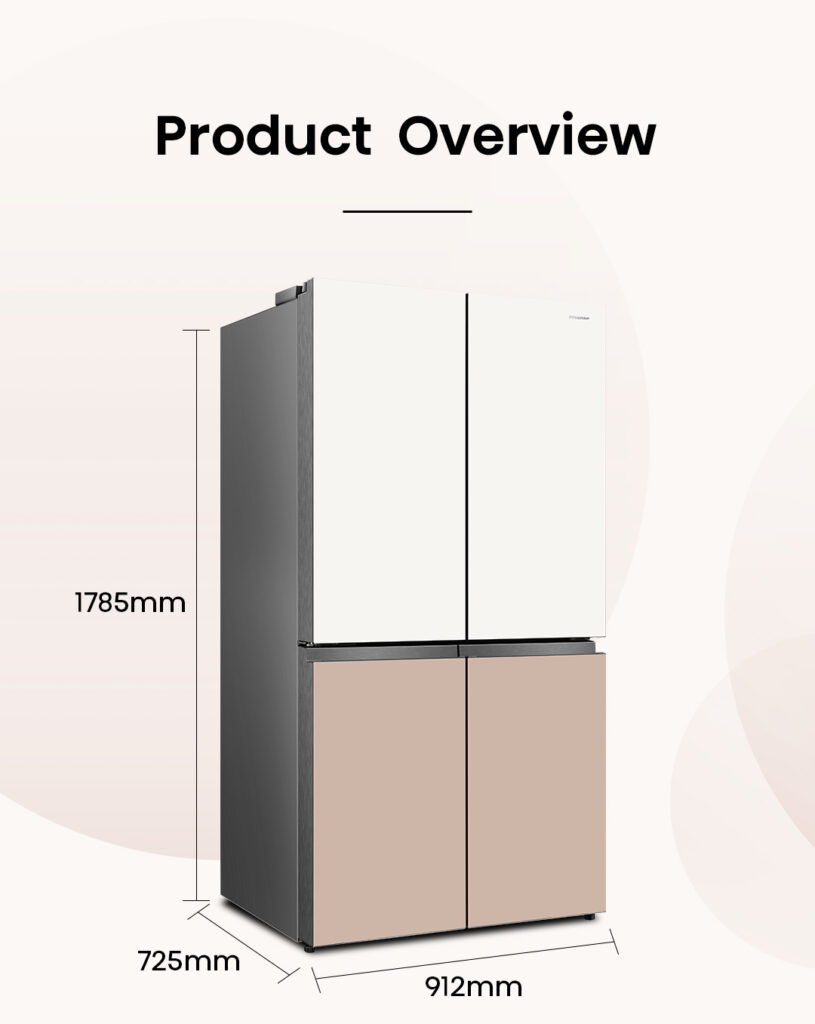 FAQs: Hisense 4 Door Fridge RQ768N4AW-KU
What is the total storage capacity of the Hisense 4 Door Fridge RQ768N4AW-KU?
The fridge has a gross capacity of 720 liters and a net capacity of 583 liters.
Does the fridge have an inverter technology?
Yes, the fridge is equipped with inverter technology that adjusts the cooling output for stable temperature and energy savings.
How many drawers and trays are in the freezer compartment?
The freezer compartment has 4 drawers and 2 trays, with a total net capacity of 191 liters.
Does the fridge have adjustable legs?
Yes, the fridge has adjustable front legs to level the appliance.
What is the warranty for the Hisense 4 Door Fridge RQ768N4AW-KU?
The fridge comes with a 3-year general warranty and a 12-year compressor warranty.