Hisense 1.0HP (R32) Non-Inverter Air Conditioner AN10DBG2
Hisense Air Conditioner
Cool, comfortable, reliable. Non-inverter DB series.
Fast Cooling
Large Blade - Long Distance
LED Display
Smart Mode
Sleep Mode
I Feel
Gold Fin
Environment Friendly

Keep you cool all the time
Fast Cooling
Just press the "Super" button, and the AC will start running at strong and ultra-low temperatures to keep you cool.
Large Blade, Strong Airflow
Enjoy cool and comfort anywhere in the room.

Concise and Easily understandable
LED Display
Elegant design with hidden displaym can easily understand the operation at a glance.
Auto-run the most comfortable mode for you
Smart Mode
Just press the "Smart" button and the AC will auto-adjust to the best mode according to the room temperature, simple and comfortable.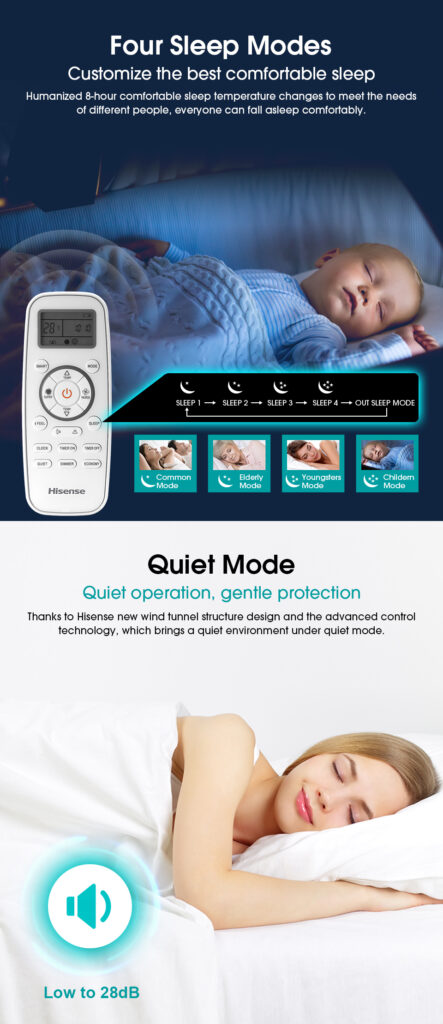 Customize the best comfortable sleep
Four Sleep Modes
Humanized 8-hour comfortable sleep temperature changes to meet the needs of different people, so everyone can fall asleep comfortably.
Quiet operation, gentle protection
Quiet Mode
Thanks to Hisense new wind tunnel structure design and the advanced control technology, which brings a quiet environment under quiet mode.

Uniform temperature, More comfortable
I Feel
Hisense AC especially adds a sensor on the remote control to detect its surrounding temperature, when you press the "I Feel" button, it will cooperate with the IDU sensor to intelligently adjust AC to ensure that the temperature around you is what you need.
Take care of your health
Anti Mildew Running
After turning off the AC, the indoor fan will continue running for 30 seconds, preventing mildew growth.

Give you comfortable humidity
Strong Dehumidification
High Density Filter - Active Carbon Filter - Ionizer Filter
Multiple Purification Technology
The combination of a high-density filter, an active carbon filter, and an Ion filter allows you to always enjoy the fresh air.
High-Density Filter
Effectively remove more than 90% dust, tough and washable.
Active Carbon Filter
Efficient absorption of organic gases, effective deodorization of formaldehyde and ammonia.
Ionizer Filter
Effectively remove dust, PM2.5, and smoke. Generate negative Ions to freshen the air in the room.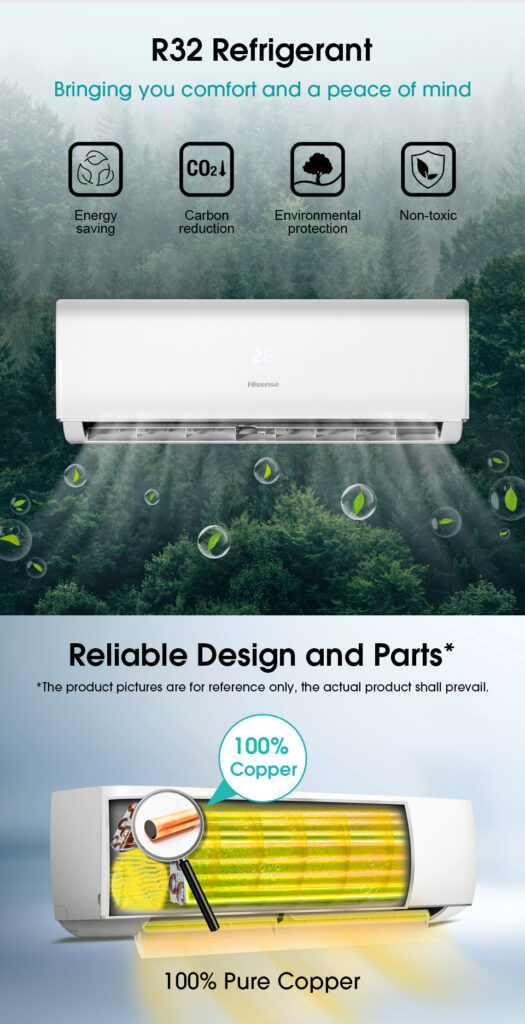 Bringing you comfort and peace of mind
R32 Refrigerant
100% Pure Copper
Reliable Design and Parts*
*The product pictures are for reference only, the actual product shall prevail.