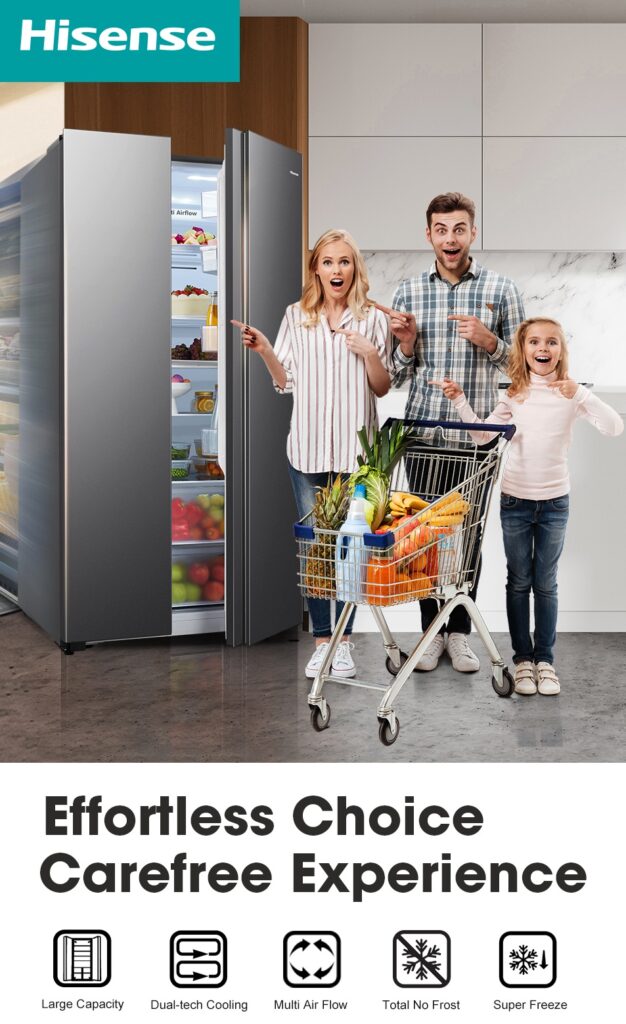 Hisense 620L 2 Door Fridge Side by Side RS666N4ACN
Effortless Choice - Carefree Experience
Large Capacity
Dual-tech Cooling
Multi Air Flow
Total No Frost
Super Freeze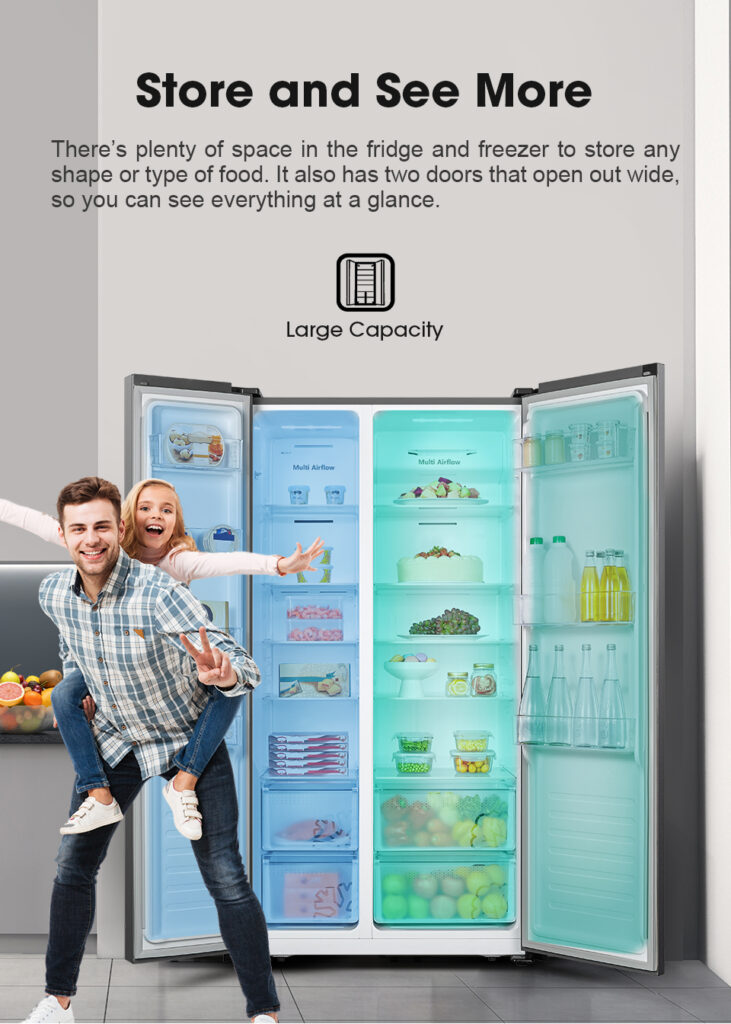 Large Capacity
Store and See More
There's plenty of space in the fridge and freezer to store any shape or type of food. It also has two doors that open out wide, so you can see everything at a glance.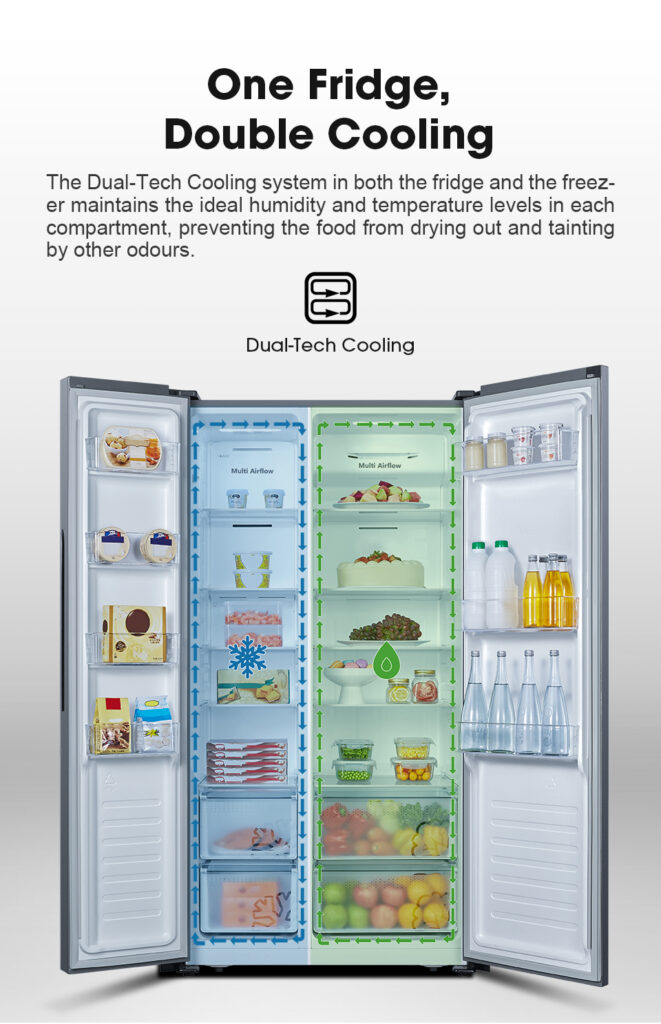 Dual-Tech Cooling
One Fridge, Double Cooling
The Dual-Tech Cooling system in both the fridge and the freezer maintains the ideal humidity and temperature levels in each compartment, preventing the food from drying out and tainting by other odours.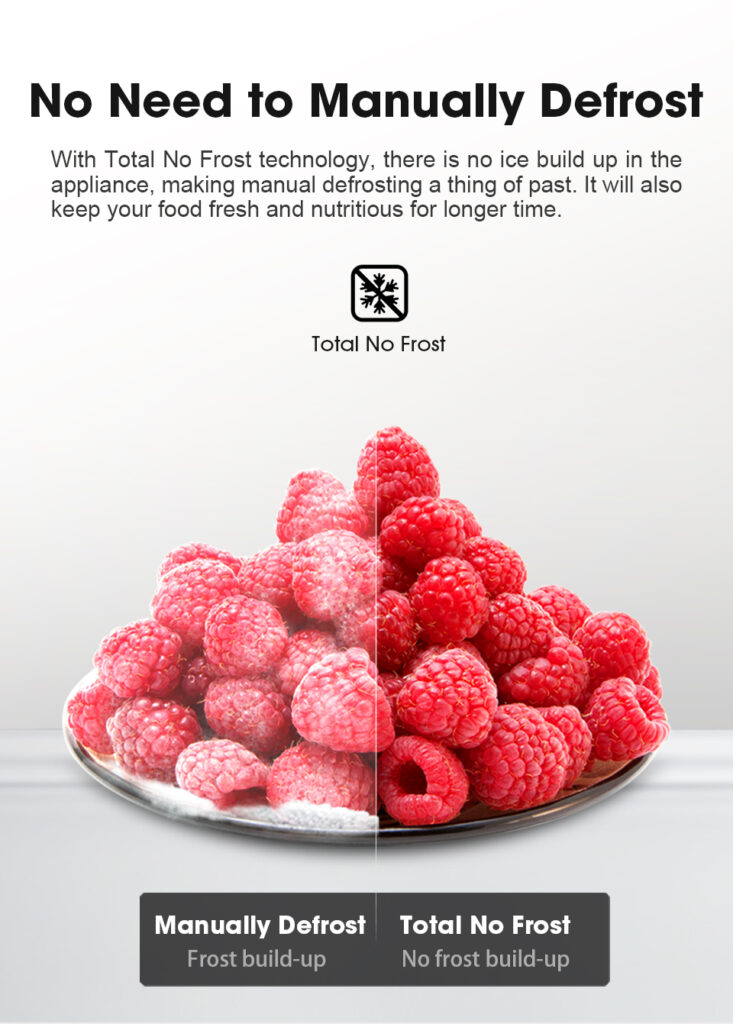 Total No Frost
No Need to Manually Defrost
With Total No Frost technology, there is no ice build-up in the appliance, making manual defrosting a thing of the past. It will also keep your food fresh and nutritious for a longer time.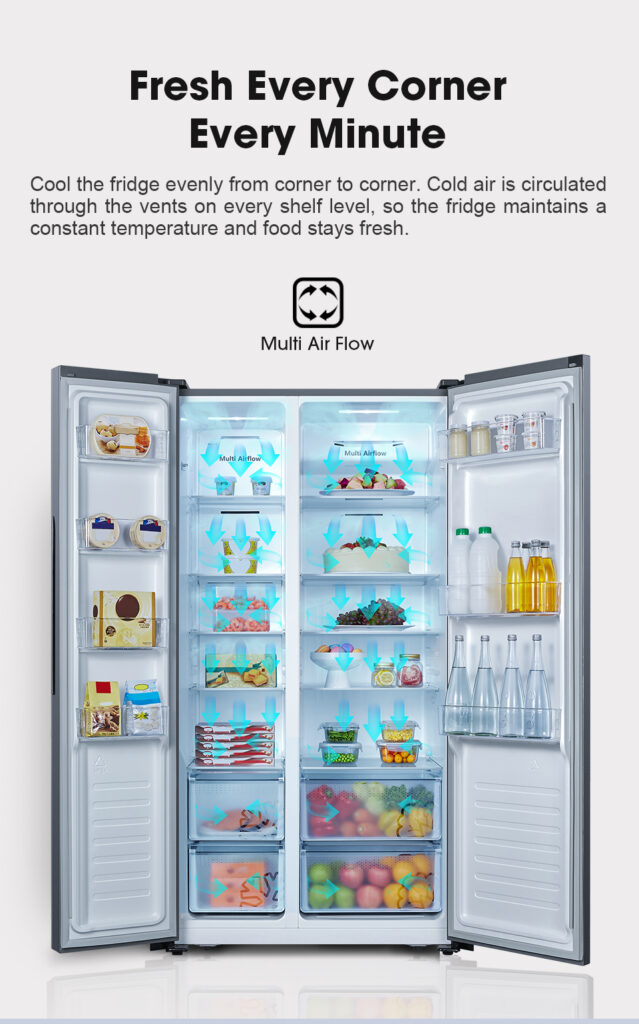 Multi Air Flow
Fresh Every Corner Every Minute
Cool the fridge evenly from corner to corner. Cold air is circulated through the vents on every shelf level, so the fridge maintains a constant temperature and food stays fresh.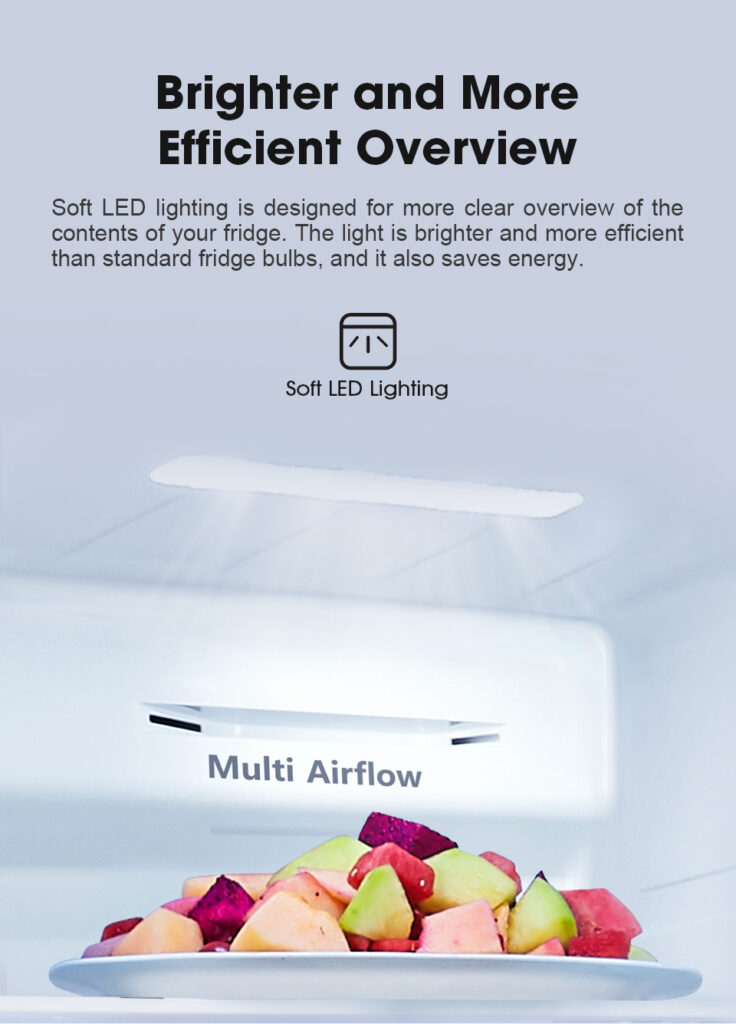 Soft LED Lighting
Brighter and More Efficient Overview
Soft LED Lighting is designed for a clearer overview of the contents of your fridge. The light is brighter and more efficient than standard fridge bulbs, and it also saves energy.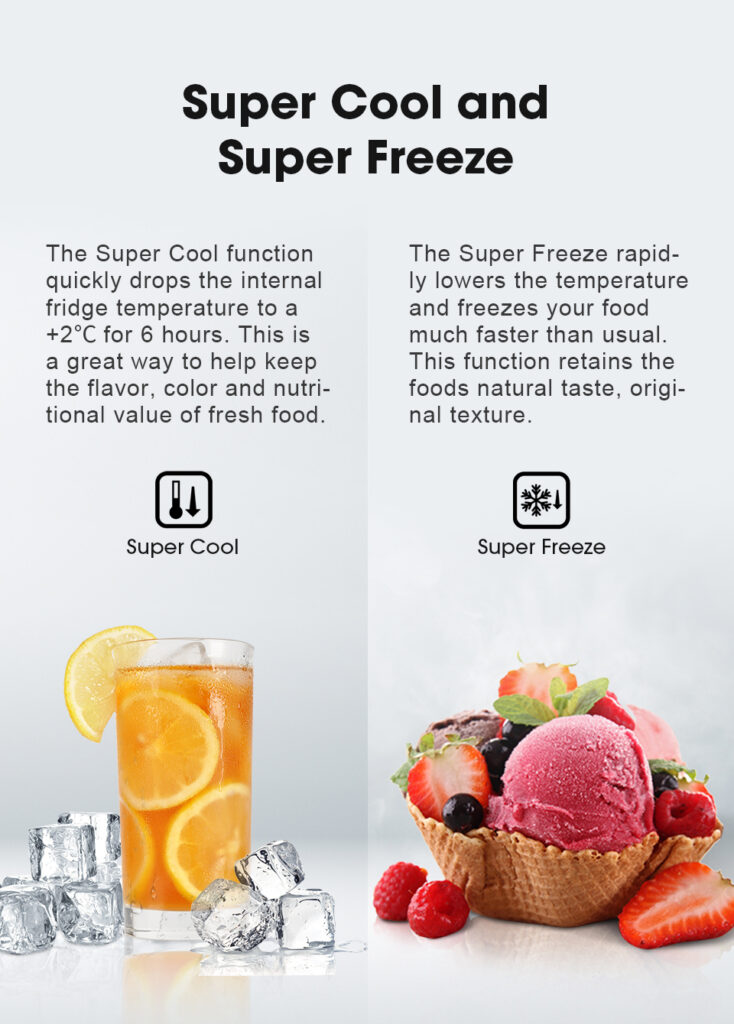 Hisense 620L 2 Door Fridge Side by Side RS666N4ACN
Super Cool and Super Freeze
Super Cool
The Super Cool function quickly drops the internal fridge temperature to +2°C for 6 hours. This is a great way to help keep the flavor, color, and nutritional value of fresh food.
Super Freeze
The Super Freeze rapidly lowers the temperature and freezes your food much faster than usual. This function retains the food's natural taste, and original texture.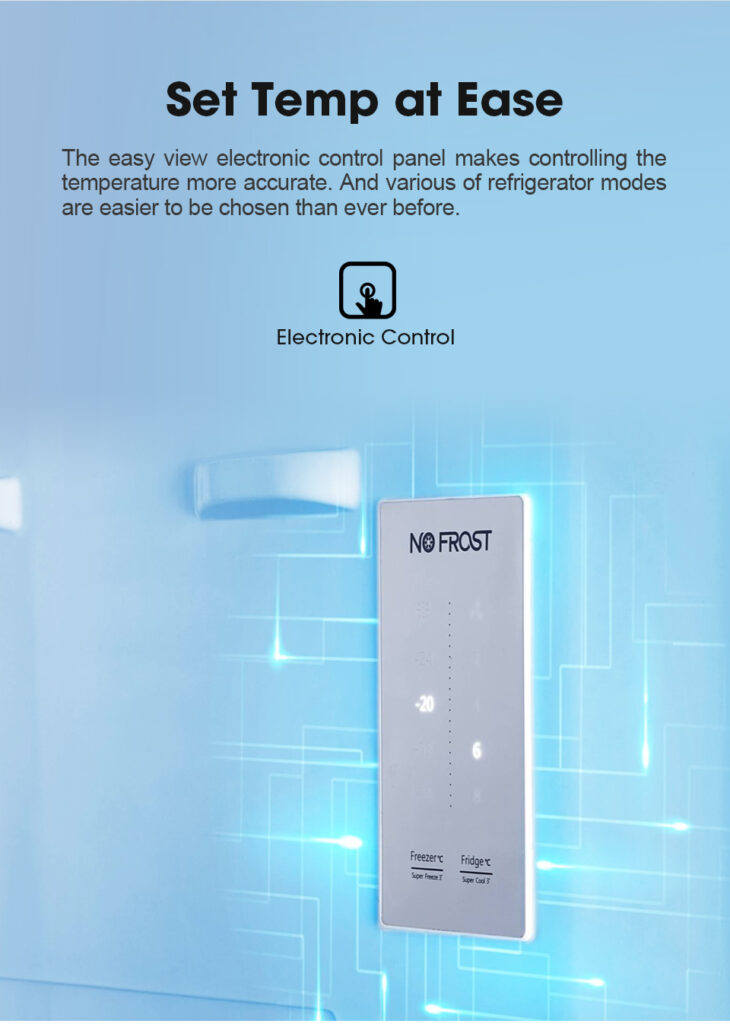 Electronic Control
Set Temperature at Ease
The easy-view electronic control panel makes controlling the temperature more accurate. And various refrigerator modes are easier to be chosen than ever before.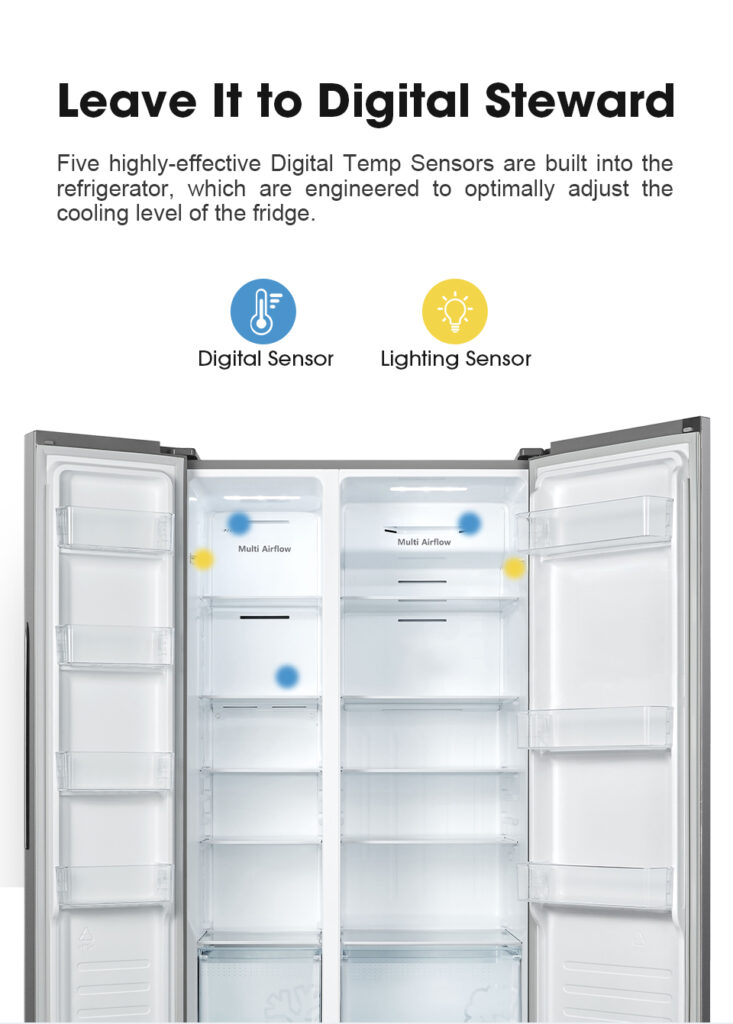 Digital Sensor | Lighting Sensor
Leave it to Digital Steward
Five highly-effective Digital Temperature Sensors are built into the refrigerator, which is engineered to optimally adjust the cooling level of the fridge.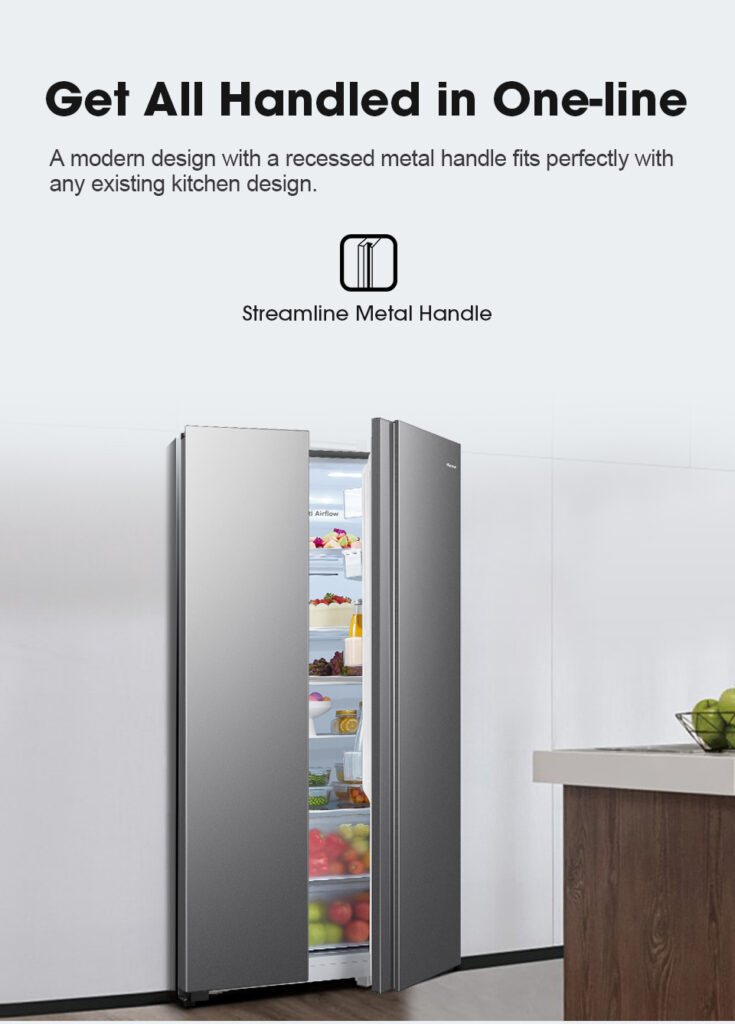 Steamline Metal Handle
Get All Handled in One-line
A modern design with a recessed metal handle fits perfectly with any existing kitchen design.
Big Door Balcony
Big Shleves, for Big Need
The extra tall and wide fridge shelf allows you to store bulky items such as large jugs of milk or juice, or even store two rows of small containers.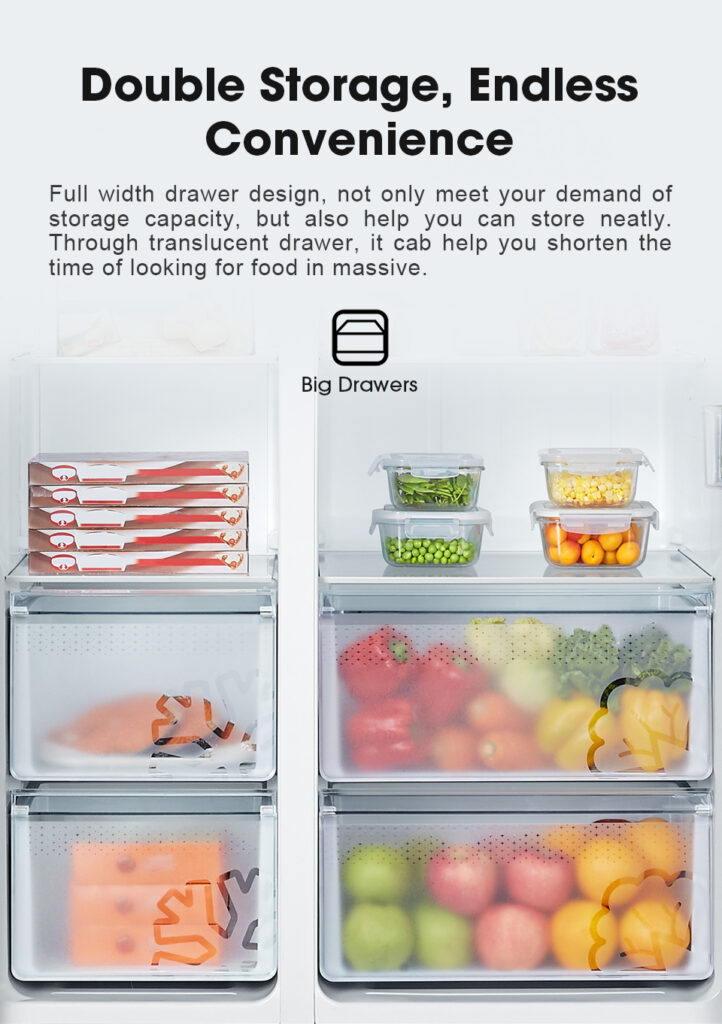 Big Drawers
Double Storage, Endless Convenience
Full-width drawer design, not only meet your demand for storage capacity but also help you store food containers neatly. Through translucent drawer, it can help you quickly look for what you need.