Transform Your Laundry Experience with Samsung Washing Machine 7KG WA75H4200SW/FQ Super Value with Magic Filter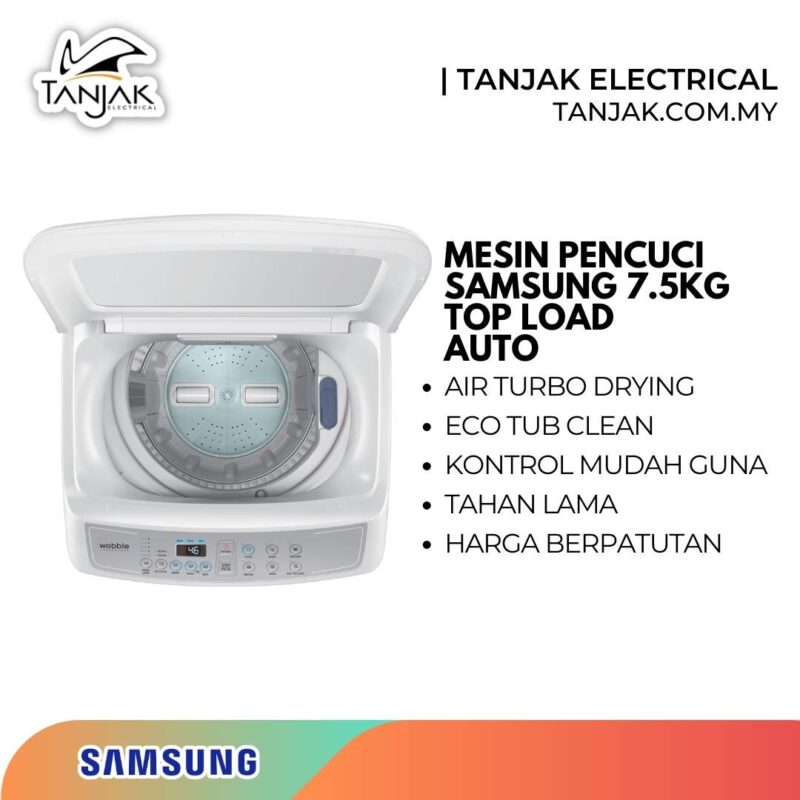 Model: Samsung WA75H4200SW/FQ
Washing Machine Type: Top Load Washing Machine
Dive into a Laundry Experience Like No Other - Exceptionally Gentle, Yet Unbelievably Efficient!
Product Features: Samsung Washing Machine 7KG WA75H4200SW/FQ Super Value with Magic Filter
Advanced Fabric Care and Cleaning
Imagine giving your clothes the VIP treatment they deserve. That's exactly what the Samsung Washing Machine 7KG WA75H4200SW does with its innovative Wobble technology. As your clothes spin and swirl around the drum, the Wobble pulsators create a dynamic, multi-directional washing flow. This isn't just gentle; it effortlessly removes dirt and stains, while reducing tangles, twists, and knots. Each garment comes out spotlessly clean, retaining its quality and texture. It's like a soothing spa day, but for your clothes!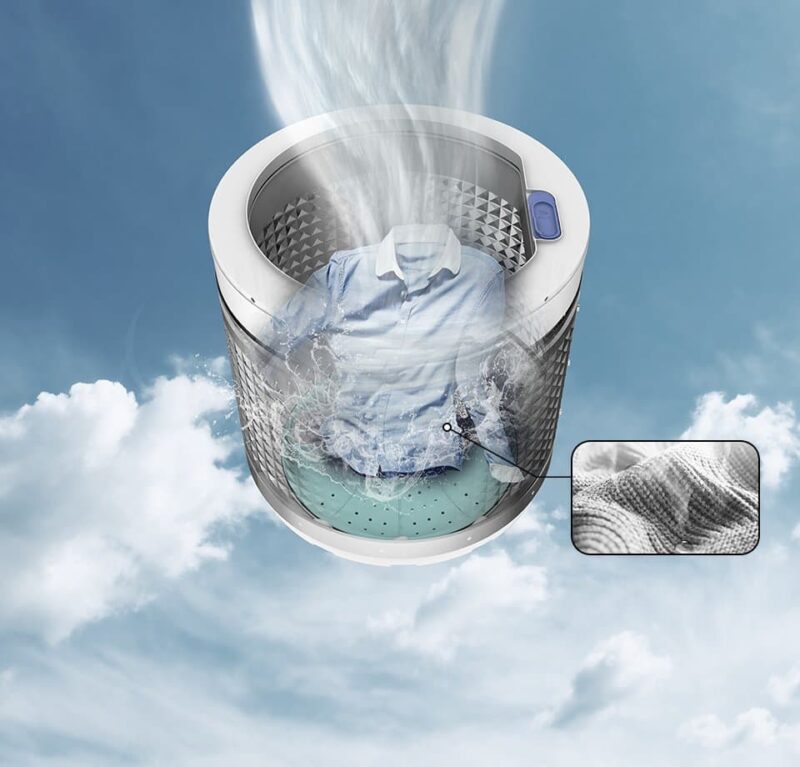 Dries Clothes Much Faster
If you've spent ages waiting for your clothes to dry, you'll simply love the Samsung Washing Machine 7KG WA75H4200SW's Air Turbo Drying System. As your clothes spin in the drum, dual air intakes swoop in more air, quickly and effectively extracting water. The result? Super-fast drying times, meaning less time waiting and more time wearing your favourite outfits. Your clothes dry faster, and you get to save precious time.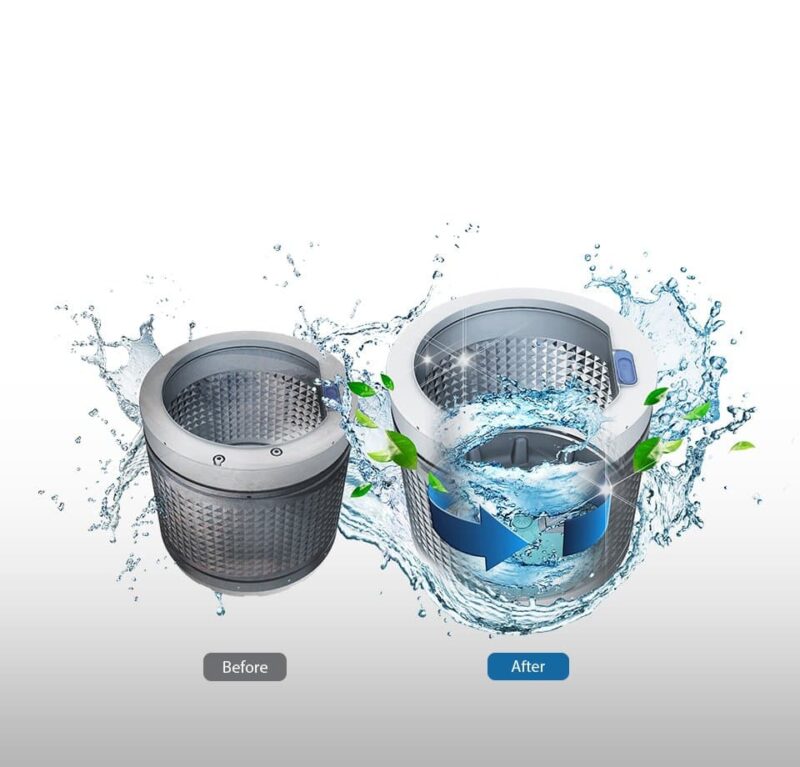 Keeps Your Top Load Washer Fresh
Maintaining your washing machine has never been easier. The Samsung Washing Machine 7KG WA75H4200SW utilises Eco Tub Clean technology to keep itself fresh and efficient, without using harsh chemicals. More surprisingly, it can even tell you when it needs cleaning! It's as close as you can get to owning a self-cleaning washing machine, serving you shinier clothes from an equally shiny washer.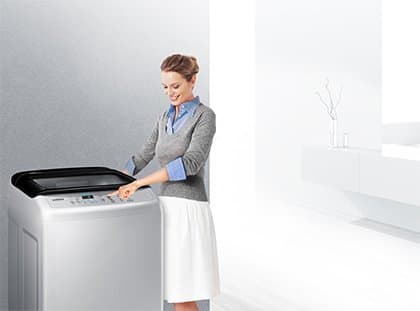 Harmoniously Streamlined and Ergonomic Design
The Samsung Washing Machine 7KG WA75H4200SW isn't just about brilliant performance; it's also a style statement for your home. With its ergonomic and streamlined design, it harmonizes well with your home decor. The dual cluster control panel, conveniently located up-front, is tilted at a comfortable angle, accessible with the touch of a finger. An ice-blue LED display complements the stylish white body, keeping you informed while adding a touch of modern elegance to your laundry room.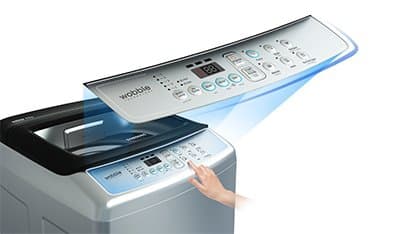 Simpler to Access and Control
Never grapple with confusing controls again! The Samsung Washing Machine 7KG WA75H4200SW's dual cluster control panel is designed to make your laundry chores a breeze. With intuitively laid out buttons arrayed on both sides, selecting the desired program is as simple as pushing a button.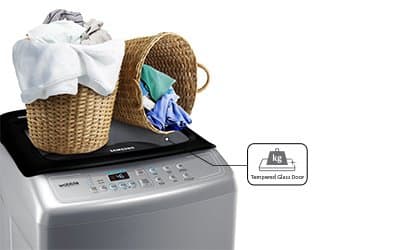 Clearly More Durable and Long-lasting
The Samsung Washing Machine 7KG WA75H4200SW is built to be a part of your home for many years to come. The tempered glass door provides a clear view of your laundry, but don't underestimate its strength. It withstands high pressure, resists damage, and stays scratch-free, which means your machine stays sleek and new-looking even after years of use.

Magically Cleaner
The Magic Filter in this washing machine takes care of tiny lint, fluff, and particles that may get detached from your clothes during washing. With their knack of clogging the drain, this feature ensures that your machine's drain remains unclogged. While your clothes appear cleaner, your machine runs smoother too!

Thoroughly Clean
With its Water Fall technology, the Samsung Washing Machine 7KG WA75H4200SW promises a thoroughly clean wash. This powerful, concentrated water spray evenly distributes detergent, making sure it penetrates deep into your garments. So, each time you pull out the clothes from your washing machine, you can be assured of a thoroughly cleaned and sparkling laundry.
Product Specification: Samsung Washing Machine 7KG WA75H4200SW/FQ Super Value with Magic Filter
| Specification | Details |
| --- | --- |
| Washing Capacity (kg) | 7.5 kg |
| Body color | White |
| Door | White |
| Panel Display | Dual Cluster Control |
| Air Turbo | Yes |
| Auto Restart | Yes |
| Child Lock | Yes |
| Delay End | No |
| Door Lock | No |
| Drum type | Diamond Drum |
| Magic Filter | Yes |
| Motor | AC Motor |
| Pulsator | Wobble |
| Spin Speed | 700 rpm |
| Smart Check | No |
| Tempered Glass Window | Yes |
| Water Fall | Yes |
| Water Level | 5 Levels |
| Cycle - Blanket | Yes |
| Cycle - Delicates | Yes |
| Cycle - Eco Tub Clean | Yes |
| Cycle - Fuzzy | Yes |
| Cycle - Jeans | Yes |
| Number of Cycle | 6 |
| Quick Wash | Yes |
| Net Dimension (WxHxD) | 540 x 850 x 560 mm |
| Net Weight | 31 kg |